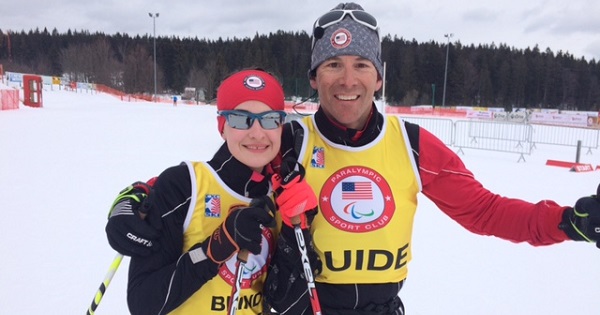 Winners Never Quit: Meet Mia Zutter
News // Patient Care // Mar 12 2018
Mia Zutter, a former patient at the Department of Ophthalmology and Visual Sciences, has had an amazing journey from receiving a devastating diagnosis to achieving a Paralympic dream.
Mia had wanted to excel in sports as a child, but when her standard eye exam results were less than stellar, she went to see a specialist.
Just before starting seventh grade, Mia and her family met our very own Dr. Dave Gamm, a professor and pediatric ophthalmologist at the Department as well as the director of the McPherson Eye Research Institute at the University of Wisconsin School of Medicine and Public Health.
Dr. Gamm diagnosed Mia with Stargardt disease, a genetic eye disorder in which the central vision is severely impaired, forcing the patient to rely on his or her own peripheral vision.
"I told Mia, 'the bad news is you do have a blinding disease. You are visually impaired,'" Gamm said. "But it is not going to get much worse. You have been living with this for a while and you are finding ways to do amazing things, and that won't change."
Because of her disease, Mia cannot drive and it takes her longer to read. Despite these obstacles, Mia hasn't lost hope and has continued to accomplish incredible things.
"It was hard news to hear when you are only 12 years old, but I was so young and I still loved sports so I just stayed positive and found a way," Mia said.
Three and a half years ago, Mia took up skiing, upon recommendation from a friend. She has found a passion she can successfully pursue. Mia skied with CXC of Madison and Ski Club MadNorSki of Madison during high school and they had a huge impact on her growth in the sport. She uses a guide (pictured below) for competitive cross-country skiing (Nordic skiing) and has traveled across the country competing in various races. She even went to Germany for a competition during high school, which Mia said was an overwhelming but important learning experience.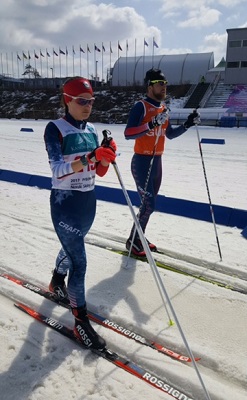 "My family has been so supportive. They do it all for me," Mia said. "I feel in love with the sport and they do will anything for me. It has been fun and I've found a great community."
Mia is currently a freshman at College of St. Scholastica in Duluth, where she competes on the ski team. While on the team, she has competed in many competitions including the World Cup in Canmore, Alberta, Canada in December. Her results at this event would change her life forever.
In February, Mia got the exciting news that she qualified for the 2018 Paralympics in Pyeongchang, South Korea, from March 8-18.
"It is amazing. I have worked so hard and it will be such an honor to represent my country. My whole family will be there to cheer me on and it is going to be an experience of a lifetime," Mia said.
The process of getting Mia to the Paralympics was rather lengthy. There was extensive paperwork and testing necessary to prove Mia had a blinding disease and therefore qualified as a Paralympic athlete. These efforts were headed by Darla Coullard, an ophthalmology technician who works with Dr. Gamm, who handled these documents and tests and made sure to get them to the right people at the Paralympics.
"We unfortunately have to give patients and families sad and difficult diagnoses like this one, but I use Mia as my example," Gamm said. "I say 'look at this young lady. She did not let it slow her down.' People with vision challenges can do so much. She is an inspiration to many."
The original story was published by UW Health.