1995
Department Holds First Vision for The Future Conference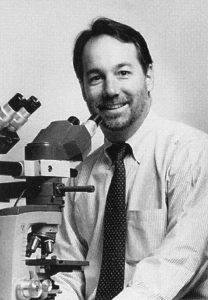 The department holds its first Vision for the Future conference where more than 150 community members discussed the clinical, research and educational initiatives with faculty.
The Laser Vision Center becomes the only center in the state offering two excimer lasers – the VISX and Chiron lasers – to treat patients with nearsightedness, astigmatism, and other eye disorders. Drs. Frederick Brightbill and Neal Barney are certified to teach ophthalmologists throughout the nation on how to use the new VISX laser.
Ronald Klein, MD, PhD, receives the National Eye Education Program Outstanding Achievement Award presented by NEI – recognizing Klein's role in helping to develop an education campaign about diabetes and glaucoma based on observations from studies that people with these diseases may not be receiving adequate eye care.