Public Events
Join us at one of our public events this year, we look forward to having you on our mission to save sight.
White Cane Safety Day
White Cane Safety Day, also known as Blind Americans Equality Day, is commemorated every year on October 15. This date was officially proclaimed White Cane Safety Day in 1964 to gain recognition for the growing independence and self-sufficiency of blind or visually impaired people in the U.S., and also to gain recognition of the white cane as the symbol of reliance and self-sufficiency.
The purpose of White Cane Safety Day is to alert everyone on the importance of a white cane to a person who has a vision impairment. A white cane provides valuable independence for those with vision loss to be contributing members of our society through their employment, volunteer opportunities, faith communities or recreational activities. Below are some common beliefs and facts about the White Cane Law.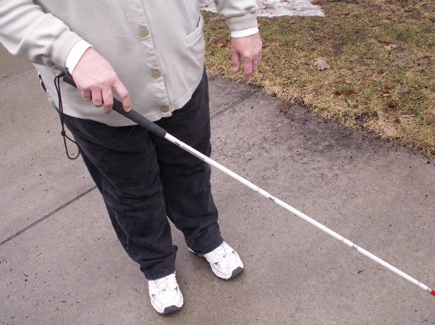 Belief: The White Cane Law is adequately covered in driver's education.
Fact: While the White Cane Law is included in the Driver's Manual, the degree of focus placed on the law in driver's education classes is dependent on the instructor. There is no time requirement on the topic, so some instructors might cover it extensively, while others spend a short time-as little as a few minutes-talking about the law. Another issue is that people most often take driver's education while adolescents. There is usually no need to take another written test going forward, unless a person has a driver's license that has been expired for more than eight years or if they want to add another class and/or endorsement to an existing license. This limited review makes it difficult for people to remember something they learned briefly in driver's education class for the rest of their lives.
Belief: Police officers know about the White Cane Law.
Fact: We thank police officers for their service on our roads and streets, especially those who are advocates for white cane safety. However, just like drivers, police might not be well informed about the law and how to recognize or handle a violation. In some cases, the driver is issued a citation, but not in all cases. It is important that we as members of the blind and visually impaired community undertake initiatives to provide education to police about knowing and enforcing this law.
Belief: There is no penalty for violating the White Cane Law.
Fact: According to Wisconsin statute:346.30(3) (3): "any person person violating s. 346.26 may be required to pay between $25 and $200 for the first offense and may be required to pay between $50 and $500 for the 2nd or subsequent conviction within a year." Compared to the risk of injury or death that could occur to people who are blind or visually impaired who are struck by vehicles, this fine illustrates that even if properly enforced, penalties for breaking the law are small.
Belief: Increasing the number of feet that a driver has to stop will strengthen the White Cane Law.
Fact: Our highest priority is creating greater understanding of the White Cane Law. The stopping distance is a secondary issue. Right now, the White Cane Law is significantly under-enforced and many people do not know the law even exists. Increasing the ten-foot distance at which vehicles need to stop will not change this. Efforts would be better spent in educational projects to inform law enforcement and the general public of the existence of the White Cane Law.
Belief: White Cane Law is consistent across the United States.
Fact: Each state has its own White Cane Law and they vary widely. Wisconsin law asserts that drivers must stop ten feet from a pedestrian carrying a white cane or using a guide dog, and the penalties are the fines noted above. Arizona law, for instance, states drivers should yield to pedestrians carrying a white cane or using a guide dog or being assisted by a sighted person, and that drivers are responsible for any damages to the person if they are hit. Penalties for violating this law include imprisonment for up to four months, and/or a fine of up to $750. In some states, such as Hawaii, California, and Arkansas, the word "handicapped" is used when referring to people who are blind or visually impaired in White Cane Laws.
For more information about the White Cane Law in each state, visit the website of the American Council of the Blind at acb.org/whitecane.