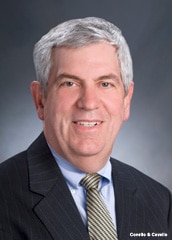 Please join us for a collective exploration into the ever-changing landscape of sight saving discovery with colleagues and peers from across the globe.  
Our next discussion will feature Gary D. Novack, PhD, founder and CEO of Pharma-Logic Development, Inc. 
Presenting: Frontiers in Ophthalmic Drug Development with Special Attention to Drug Delivery
Based upon his decades in ophthalmic product development, Dr. Novack will discuss how basic principles of pharmacokinetics, pharmacodynamics and benefit/risk are used to develop better therapies for patients.  He will also discuss therapeutics – relatively easy, affordable ways to improve patient experience.  As well, as discuss issues in developing novel drug delivery systems for both anterior and posterior segment placement.
We encourage you to join us before the program for refreshments and networking as well.
Learn More About Dr. Novack
President of Pharma•Logic Development of San Rafael, California.
Board certified clinical pharmacologist and medical writer.
25+ years experience in pharmaceutical research and development, ranging from the laboratory to the marketplace.
Consultant to over 100 pharmaceutical and medical device firms, preparing drug development plans, clinical protocols and reports, manuscripts, as well as INDs, IDEs, NDAs, PMAs, and PLAs for worldwide submission.
Author of over 290 publications and abstracts in clinical pharmacology, ophthalmology, dermatology and neurosciences.
Member of professional societies in pharmacology (ASPET, ASCPT), ophthalmology (AAO, ARVO, American Glaucoma Society), neurology (AAN, SFN), dermatology (AAD), and medical communication (AMWA).
Current or past member of several volunteer boards, including UC Regents, UC Santa Cruz Foundation (President), UC Santa Cruz Alumni Association (President), Foundation Fighting Blindness
Reviewer for multiple peer-reviewed journals
Professor of Pharmacology and Ophthalmology at the School of Medicine at University of California, Davis
Tickets are not available as this event has passed.