We are proud to provide an exceptional educational program with translational, multidisciplinary collaborations at its core.
Our mission of improving vision-related quality of life includes a commitment to transmitting and applying knowledge. The department's clinical and research faculty are highly regarded experts in their fields, as well as talented educators with a passion for creating and sharing knowledge.
Our educational programs are designed to reach YOU—friends of the department, professional learners, clinical and research professionals and patients.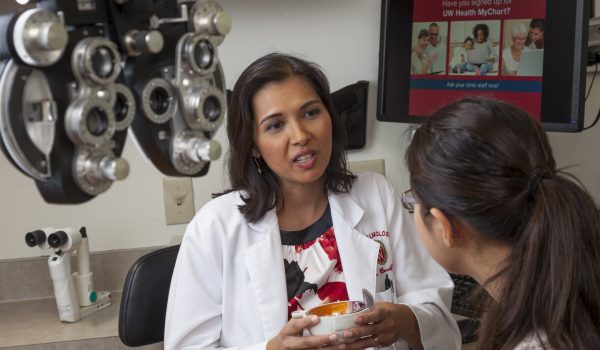 Yasmin S. Bradfield, MD
Vice Chair of Education, Co-Chair International Ophthalmology Committee, John W. Doolittle Professorship
Dr. Bradfield has an active practice in pediatric ophthalmology and strabismus medical and surgical patient care, in addition to serving as a clinical teacher to medical students, residents and fellows. As Residency Program Director, she led the Resident Clinical Competence, Program Evaluation and Selection Committees. Dr. Bradfield now serves as Vice-Chair of Education and Co-Chair of the International Ophthalmology Committee. She continues to build on our strong education initiatives.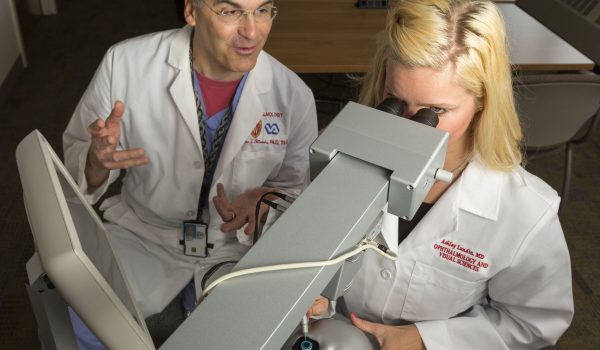 Andrew Thliveris, MD, PhD
Vice Chair of Resident Education, Residency Director
Dr. Thliveris primarily oversees the ophthalmology service at the William S. Middleton Veterans Memorial Hospital (VA), a key community partner in learning, where he has been Chief of Ophthalmology since 2007 and Assistant Chief of Surgery since 2008. He was integral in bringing multiple concepts of residency training to the national spotlight. It is impossible to separate his work at the VA from his resident teaching program initiatives as Residency Director and Vice Chair of Resident Education since 2014. Dr. Thliveris builds our program through positive patient outcomes and educational experiences.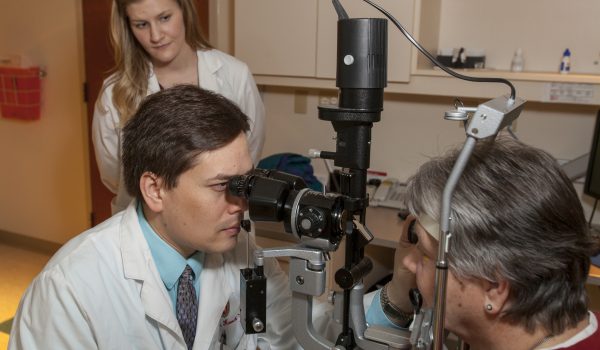 Daniel Knoch, MD
Residency Director
Dr. Knoch has received five teaching awards in eight years, including a 2013 UW School of Medicine and Public Health Dean's Teaching Award for excellence in medical student education. In addition to his tireless efforts to ensure all graduating medical students have critical knowledge of the eye, he has served as a member of the medical school's committee to implement a new student curriculum. Dr. Knoch serves as the Lecture Director of the department's annual Multiphasic Phaco (cataract surgery) Program and assumed the role of Associate Residency Director in 2016. He is an active member of and frequent presenter at the Association of University Professors of Ophthalmology annual meeting where he shares his enthusiasm for and insight into teaching clinical and surgical skills.
INSPIRING IMMERSION

our unique residency program inspires future ophthalmologists to continue their collaborations long after they graduate

View More

UNIQUE EXPERIENCES

UW-Madison offers students a wide variety of experiences, both culturally and within their academic pursuits

View More

iN GOOD COMPANY

our fellows have a lasting legacy at UW and beyond

View More
Education for Clinical Professionals
Grand Rounds
Residents and faculty present and discuss various case studies with the goal of improving clinical care practice. Held weekly throughout the year, Grand Rounds offers Continuing Medical Education (CME) credit for ophthalmologists and Continuing Education (CE) credit for optometrists, as well as an online participation options. Fridays, 7 am
Science of Disease Rounds are presented twice per semester and highlight translational research. Fridays, 7 am
Visiting Professor Series occurs throughout the year.
December 15 @ 7:00 am
-
8:00 am
RETINA WORKOUT
Held weekly immediately following Grand Rounds, Retina faculty provide a classic retinal pathology and treatment curriculum using a case presentation format. Fridays, 8 am
JOURNAL CLUBS–SPECIALTY SERVICE AND GENERAL
Informal evening meetings are held for practicing physicians and learners from the department and community to review current publications of trends and issues pertaining to the specific subspecialty. Monthly.
GLAUCOMA RESEARCH CONFERENCES
Clinical and basic scientists from several disciplines meet monthly to discuss glaucoma research and explore opportunities for translational collaboration. Monthly, first Tuesday, 10 am
LEARNER CONFERENCES
Resident and fellow-focused weekly conferences include:
Difficult Case Review Conference – Mondays, 7 am
Vitreoretinal Case Conference – Tuesdays, 7 am
Electroretinogram and Electrophysiology Case Review – Tuesdays, 8 am
Neuro-Ophthalmology Conference – Bi-monthly, third Wednesday, 5:15 pm
COMPARATIVE OCULAR PATHOLOGY ROUNDS
A cross-functional meeting of the minds that examines animal and human pathologies to arrive at new discovery. Every other Wednesday, 8 am
Ophthalmology Academic Calendar
Calendar Month Navigation
| Monday | Tuesday | Wednesday | Thursday | Friday | Saturday | Sunday |
| --- | --- | --- | --- | --- | --- | --- |
| 27 | 28 | 29 | 30 | 1 | 2 | 3 |
| 4 | 5 | 6 | 7 | 8 | 9 | 10 |
| 11 | 12 | 13 | 14 | 15 | 16 | 17 |
| 18 | 19 | 20 | 21 | 22 | 23 | 24 |
| 25 | 26 | 27 | 28 | 29 | 30 | 31 |
+ Export Events
Did you miss something?
View our accredited online CME Grand Rounds for a limited time.