Engaging Our Communities
Teaching and learning, here and abroad
A Special Message to Our Global Community
From the entire team at the University of Wisconsin Department of Ophthalmology and Visual Sciences (DOVS), we wish continued strength, health and wellbeing to our global friends, families, and colleagues affected by COVID-19. We have suspended all global faculty and learner exchanges until further notice and will continue to creatively adapt our approaches to ensure our shared DOVS objectives are still realized. Although there is much uncertainty regarding the long-term impact of the pandemic, we remain dedicated to the advancement of our global ophthalmology initiatives. We stand united together with all of you during this trying time and eagerly await when we can reunite safely in person again!
---
Our department has always been committed to sharing the experience, knowledge, and resources of the UW Department of Ophthalmology and Visual Sciences with institutions around the world in the areas of patient care, education and research. This commitment has strengthened our programs over the years by welcoming doctors and learners from all over the world, as well as sending our team across the globe to learn new methods, help those in need and share knowledge.
Since the late 1970s, the department has engaged in various global projects and collaborations around the world including Brazil, China, El Salvador, Gambia, Guatemala, Haiti, Honduras, India, Iraq, Japan, Kenya, Mexico, Myanmar, Paraguay, the Philippines, South Korea and more. We are proud of our global legacy, positive patient outcomes, and local impacts as a result of our continued stewardship of these relationships.
The Global Ophthalmology Initiatives (GOI) program was established officially in 2016, co-directed by professor and oculoplastic specialist, Cat Burkat, MD, FACS, and Yasmin Bradfield, MD, pediatric ophthalmologist and John W. Doolittle Professor.  For more information about current projects and collaboration, contact the GO Initiatives Program Manager, Hannah Baker.
OUR MISSION IN ACTION
According to the World Health Organization, "Roughly 36 million people are blind and 217 million have moderate to severe vision impairment. Globally, chronic eye diseases are the main cause of vision loss. Uncorrected refractive errors and then un-operated cataract are the top two causes of vision impairment. Un-operated cataract remains the leading cause of blindness in low- and middle-income countries.
While abroad, our department's faculty, staff, learners, and alumni address the challenging statistics by performing technologically relevant surgeries, advancing research discoveries and adaptive clinical care. These experiences directly affect our Wisconsin healthcare system by exposing professionals to diverse patient populations, differing medical systems and diseases, cultural differences and innovative community outreach programming.
EDUCATION
We educate learners and teachers all over the world through lectures, seminars, and exchanges involving DOVS faculty, learners (medical students, residents, clinical fellows), staff and alumni. Faculty and learners have a multitude of opportunity to apply their global ophthalmology experiences into the local community. By working with outreach sites in the Madison region, distinctive populations within our Plain Community Outreach Clinic, Department of Corrections Clinic, Veterans Hospital,  Madison Bi-monthly Community Clinic and Annual World Sight Day Clinic gain access to equitable care, and offer physician's exposure to under-served patients, many of which come from diverse linguistic, socioeconomic, cultural, and knowledge backgrounds. Accompanying local and regional fieldwork, learners are encouraged to participate in global fieldwork experiences at partner sites in India and the Philippines. Financial support is available for learners to engage in globally and structured to enhance their core competencies in patient care, medical knowledge, interpersonal and cross-cultural communication, professionalism, practice-based learning and systems-based practice.
PATIENT CARE
Our program welcomes faculty and learners from other countries to Madison for clinical observations alongside University of Wisconsin (UW) colleagues, for mutually enriching clinical and surgical observership experiences. These short-term opportunities are limited due to clinical capacity among other learners including medical students, residents and clinical fellows. At this time, we given priority to UW learners and global partners; we offer an annual 2-week faculty exchange with Dr. Shroff's Charity Eye Hospital (SCEH) and 5-week Brazil resident observership rotation. Non-affiliated international observers may be considered, and should contact Hannah Baker for additional information on the formal application process.
RESEARCH
We encourage research collaborations with international partners, as opportunities to make contributions to basic science, translational and clinical research internationally. International clinicians benefit from working with our strong clinical research faculty and excellent Clinical Eye Research Unit (CERU). Annually, we partner with the Association for Research in Vision and Ophthalmology (ARVO), to support an international ophthalmologist attendance to the annual meeting and offer a 5-week research rotation and clinical observership to an excelling University of São Paulo (USP) resident under the supervision of a clinical research faculty. Our international research collaborations provide opportunities for expansive mentoring and networking.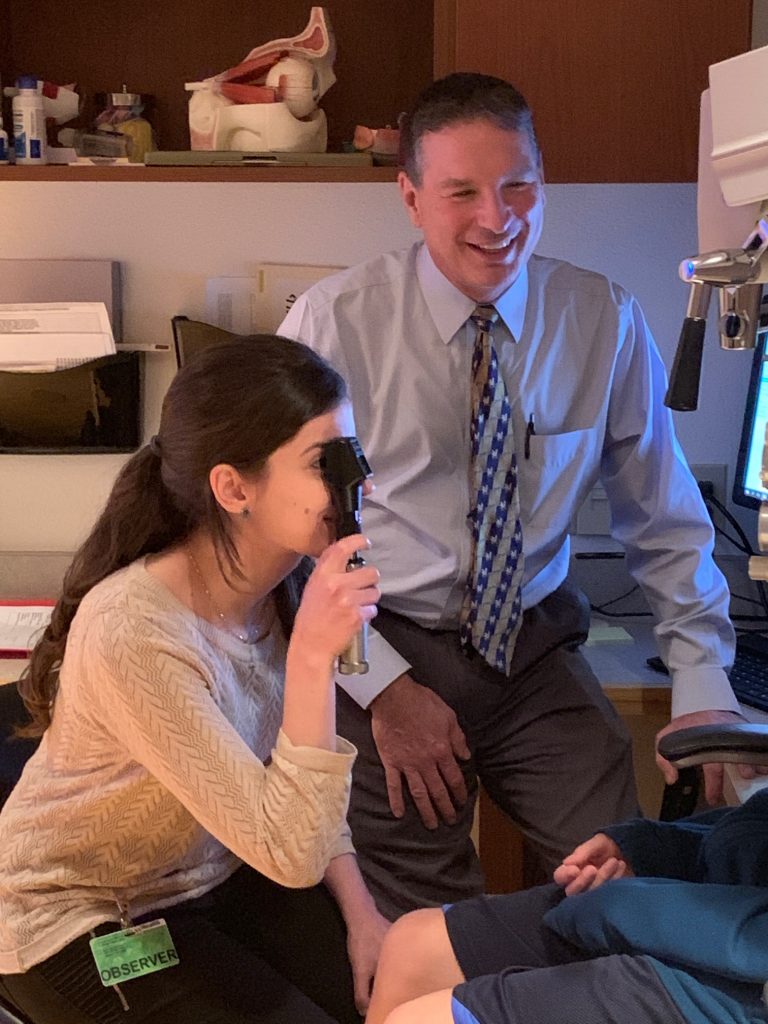 University of Sao Paulo resident contributes to research project with the Pediatric Ophthalmologist, Dr. Michael Struck
Resident Exams Patient during World Site Day Clinic sponsored by DOVS & Combat Blindness International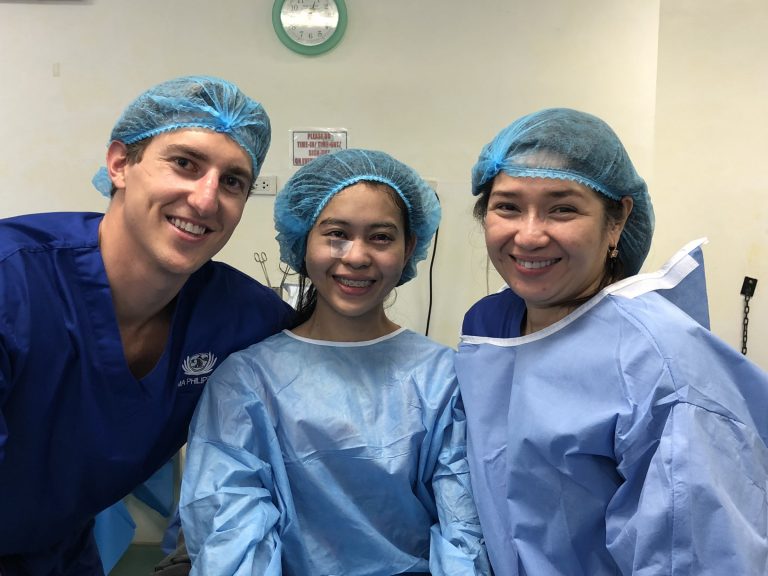 New Resident Rotation in Manila & Tacloban City, Philippines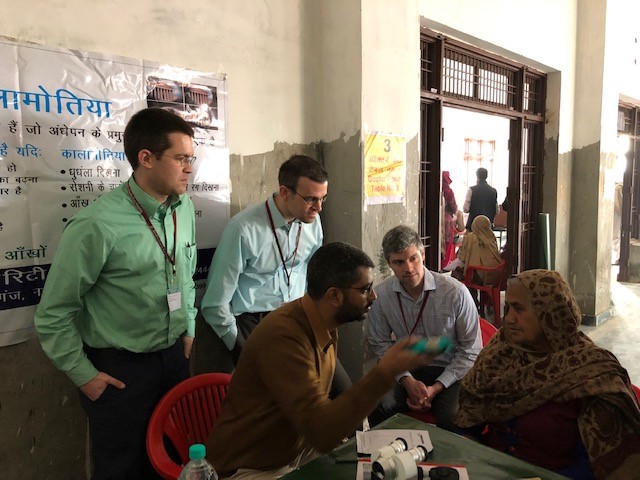 DOVS Celebrates 5th Annual Resident Rotation at Dr. Shroff's Charity Eye Hospital, India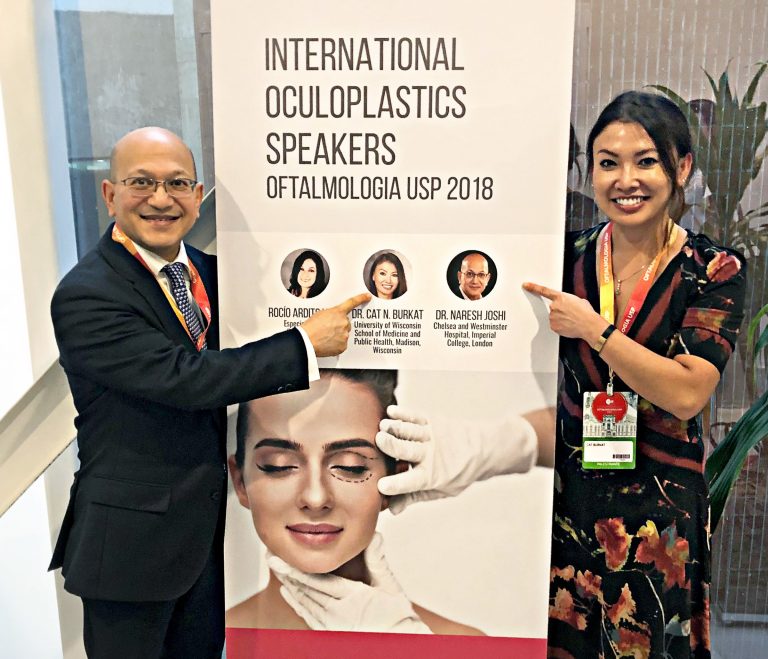 Faculty Present at University of Sao Paulo Brazil Ophthalmology Congress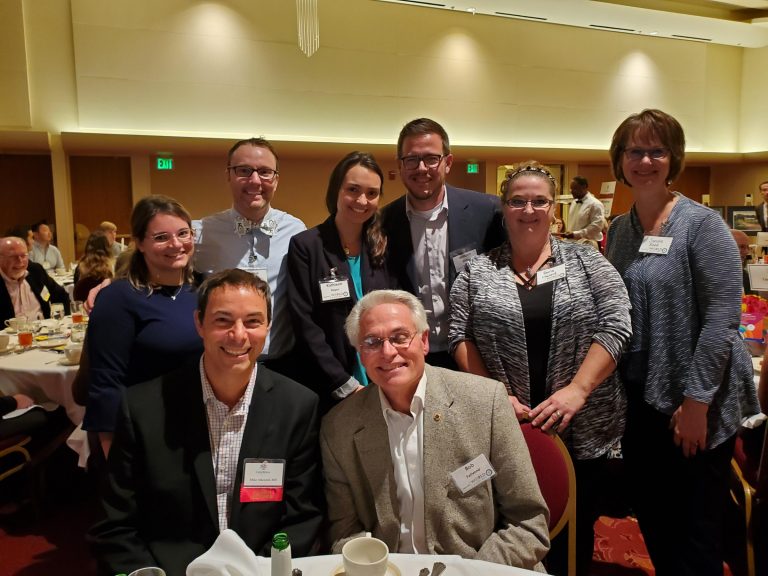 DOVS celebrates Combat Blindness International's 35th Anniversary