The Department of Ophthalmology and Visual Sciences has various resources to enable excellent research. Explore all the tools, documents and contacts below. We're here to help you join our mission to save sight. Let's get started.
Need help getting started? Just ask.
BIOSTATISTICAL CONSULTING
Biostatistical analysis enhances the robustness of research findings and should be employed for all types of research studies, including, but not limited to, basic, clinical, and population studies. Statistical consultation is especially valuable during the planning stage of a research study or a proposal for extramural funding. Powered studies are also now a requirement for both IRB applications and internal applications for gift funds appropriated through Funds Distribution Committee. The appropriate analyses provide a level of integrity and validity to research that strengthens the resulting findings enabling their acceptance by the biomedical community. DOVS offers two methods of biostatistical consulting.
DOVS CORE BIOSTATISTICIAN
The UW-Madison Vision Research Core is funded by the National Eye Institute (NEI) and provides several services including biostatistics & epidemiology (BERC – Biostatistics and Epidemiology Resource Core).  With additional support from the department, assistance currently is available at no cost for all faculty and learners. These individuals should contact the biostatistician early on in the process of developing an idea or project design.
SERVICES PROVIDED:
Research Planning
Provide assistance with both study design and sample size/power calculations.
Data Analysis: Provide assistance with a particular analysis or choosing the right method for your study including but not limited to linear/logistic regression models, time series models, ANOVA/ANCOVA models, survival analysis and RNA-seq data analysis.
Results Preparation and Presentation: Provide help with graph and table construction, results interpretation and the reporting of the used methods.
Consulting Services: Provide consultation on statistical concepts (what is a p-value again?), methods (will a logistic regression be the right method for this situation?) or advanced analysis ideas.
INSTITUTE FOR CLINICAL AND TRANSLATIONAL RESEARCH (ICTR)
Services through ICTR are provided by the Department of Biostatistics and Medical Informatics (BMI). It is the policy of the Department of BMI that a request for biostatistics consultation must be made at least (3) weeks in advance of any grant, abstract, poster, or analysis deadline. For large grant submissions, like an R01, at least four (4) weeks' notice is preferred.
SERVICES PROVIDED: 
Consultation/collaboration in the planning, design, conduct, and analysis of clinical/translational research.
The initial consultation is free of charge. Fees may be project dependent. Please inquire upon consultation whether fees will be incurred for your project.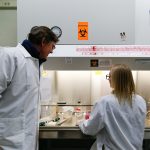 dovs research administration
Inna V. Larsen
Multi-Functional Research Administrator, Vision Core & T32 Administrator
(608) 265-2572
WE CAN HELP
Please use Grant Proposal Submission Form link to initiate the process.  This form will ask for basic information that will assist Vaqar and Inna with the creation of the budget, WISPER, and/or Cayuse record, or any other forms required by the sponsor.  Please have the form submitted at least 10 business days before the proposal is due, so that there is time for SMPH and RSP to approve it.
GRANT PROPOSAL SUBMISSION FORM
PRACTICAL RESOURCES FOR THE RESEARCH PROCESS
Faculty Award Opportunities
This information is intended to serve as a resource for Department Chairs and faculty by listing various internal and external Award opportunities. The Award opportunities listed here are not intended to be an exhaustive list but are Awards that the Dean's office views as high value opportunities.
Extramural Funding resources
intramural Funding resources
DOVS FUNDING Resources AND FUNDS DISTRIBUTION COMMITTEE
FUNDS DISTRIBUTION COMMITTEE
The Funds Distribution Committee (FDC) provides recommendations to the Department of Ophthalmology and Visual Sciences (DOVS) Chair regarding distribution of awarded and garnered funds from the UW Foundation, WARF, SMPH, and outside donations provided to the Department. Since its inception in 2016, FDC has awarded more than $844,000, including $300,000 in support from the Lions Eye Bank of Wisconsin. Funds support medical student and resident research projects, international training opportunities, and faculty research and equipment. There are also designated funds for research in AMD, diabetic retinopathy, glaucoma, and cornea research. FDC documents can be found on the intranet and more information can be found below.
Unless otherwise indicated, deadlines for submission to the FDC are two weeks prior to each meeting. Specific deadlines can be found on the intranet. From time to time other funding opportunities may occur that do not adhere to FDC deadlines. In this event, an email announcing specifics for the funding opportunity will be sent to all faculty, staff and learners.
Please note that specific travel funds for fellows are available through each fellowship specialty. Contact the fellowship advisor for more information.
In general, faculty should realize that these mechanisms can support one student researcher per faculty member per year, so mentors should prioritize requests for student research funding support.
Completed applications for any of the opportunities listed above should be emailed to Kristin Larson, external relations coordinator, unless otherwise indicated in the application instructions.
(Please note that this requires NetID login and access to the DOVS intranet.)