Abilities
With Level 2 Remote Work Access, you'll be able to:
Connect directly to your work computer from your home computer with RDP
Access network drives (H:, P:, and R:) via RDP
Access Ophthalmology web applications (Meetings, Directory, Document Library, etc.)
Use Box or Google Drive for file sharing
Use Teams to collaborate with coworkers
Requirements
All telecommuting must follow the terms in UW-Madison Telecommuting Policy.
Windows: version 8 or newer, Mac: version 10.14 or newer
Ensure that your computer software is up to date and all security patches are installed.  This is especially important for Level 2 access.
Directions
Level 2 access requires some settings to be changed on your computer and some access requests to be submitted.  Contact Chris Geier, Mike Hall, or Emily Virnig to start this process.
Install the GlobalProtect VPN client to remotely connect to the campus network.
Follow the WiscVPN Installation Instructions for your device and operating system.
NOTE: you may have already done this if you currently have Level 1 access.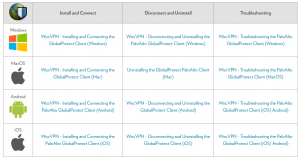 You are now connected to WiscVPN using your static IP address.  This must be complete before you can continue to the next step.
The next step depends on your operating system: