This page shows how to connect to your work computer from a Windows 10 computer.
Search your computer for 'remote desktop'.  You should see an application called Remote Desktop Connection.  Open it.
For Computer, enter your work computer's IP address.  This should be provided to you when you receive a link to these instructions.  If not, contact Mike Hall or Emily Virnig.
For Username, enter your Ophthalmology username followed by "@ad.ophth.wisc.edu".  Example: bbadger@ad.ophth.wisc.edu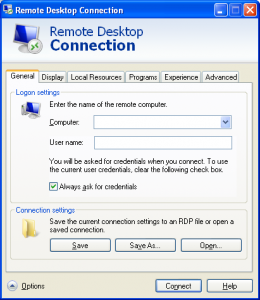 Hopefully that worked!  If not, contact Mike and/or Emily.