Featured News // News // Patient Care // Nov 30 2016
It was a typically busy day in UW Heath University Station Eye Clinic recently, when Darla Coullard, Certified Ophthalmic Assistant (COA), one of the ophthalmic techs in the pediatric clinic noticed an elderly gentleman in a wheelchair sitting alone in the adjacent adult clinic waiting room. He seemed lost, Coullard thought. It was the end of the day and the sight of this man alone tugged at Coullard's heart strings. What she did not know was this normal day at work would soon evolve into a deeply meaningful patient experience.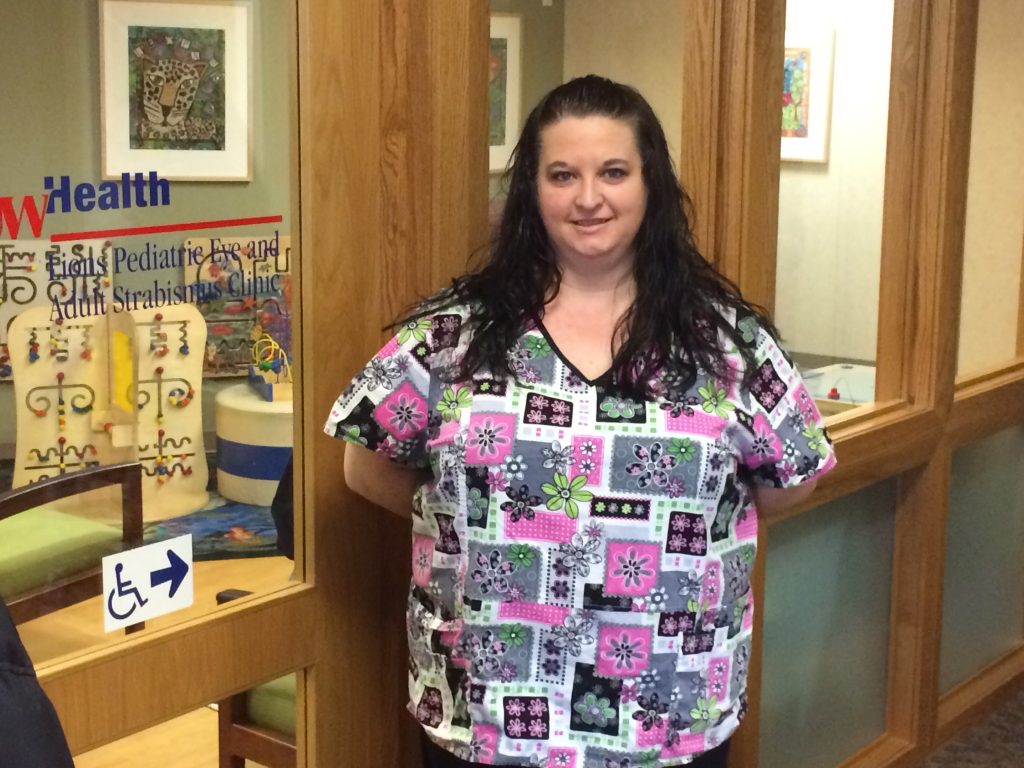 She approached him and he related the story of how he was brought to the clinic by ambulance from Reedsburg. He had experienced a sudden loss of vision in his only seeing eye, but did not require hospitalization. He was awaiting a ride home, but had just discovered his ride was not coming. One of the man's sons, a doctor who lived out of state, had the misunderstanding that the man was being admitted to the hospital. His other son, who lives in Minnesota, was on his way to pick up the man's 87-year-old wife who suffered from dementia and had terminal cancer, so she could be cared for while the man in the clinic was to be hospitalized. That meant no one was on the way to pick up the lone man in the clinic.
Coullard and two other techs took action to help the upset patient. After several phone calls, they were finally able to reach both of the sons to let them know their father was indeed not being admitted. The son driving from Minnesota agreed to head to Madison instead, but he was still a few hours away. Coullard volunteered to stay with the patient until his family could arrive at the clinic.
While they were sitting, talking in the now-empty clinic, the man became agitated. Coullard asked him what was wrong. "If I can't take care of my wife and myself we will have to go to a nursing home," the man replied solemnly. Then he perked up a bit and asked, "Do you know anyone who does in-home care?"
"Of course I do," Darla replied. Her mother had a 40-year career helping care for elderly patients in their own homes. "But she is kind of retired now and I'm not sure she is wanting to start working again…," Coullard trailed off. The man was so happy with this news, he asked Coullard if she would at least call her mother to ask. "Well, I can't talk to my mother about my patients," Coullard said. "But I can give you, or your sons, her phone number if you would like to ask."
The man's son arrived around 8pm to everyone's great relief. They bundled him in the car for the ride back to Reedsburg. Coullard walked to her car to make her own hour-plus journey home, feeling satisfied to have been in the right place at the right time.
Weeks later, the patient is still enjoying being at home with his ill wife. Coullard's mother, who coincidentally lives near Reedsburg, jumped at the chance to help this couple and has been working five days a week, with the visiting sons and other family caregivers filling in on the weekends. "We have all become part of their family now," Coullard said. "It is outcomes like this that make me appreciate my job. I am in patient care because that is what I'm passionate about."