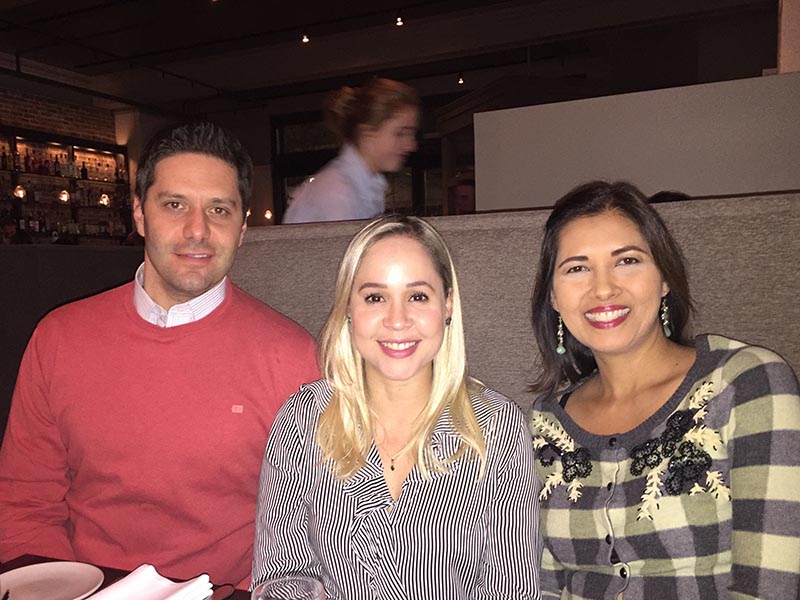 2017 International Initiative: Aline Martins
Education News // News // Residents // Dec 07 2017
There are 5,342 miles between Madison, Wisconsin and São Paulo, Brazil.
That is the journey international resident Aline Martins embarked on to further her studies in ophthalmology at the UW-Madison Department of Ophthalmological and Visual Sciences.
With the help of Combat Blindness International, an organization that aims to eliminate preventable blindness around the world, and our department's international initiative co-chairs, Yasmin Bradfield, MD, and Cat Burkat, MD. Aline was selected from the University of São Paulo as one of the top three residents from her large residency program to be sent for an exchange program abroad. Aline says in the end she chose UW-Madison, notably for its emphasis on research opportunities, which stood out to her among the other institutions.
Aline's month-long observership began on October 2, 2017, and she immediately delved into clinical research, including uveitis and retina, something in which she was particularly interested. She also attended weekly retina imaging conferences, ERG conferences, Grand Rounds and basic science lectures with the other UW residents.
According to Dr. Mihai Mititelu, from whom Aline received much of her training, "She worked closely with our residents and fellows, and was well-liked by trainees and faculty alike." Aline dedicated a significant amount of her observership to two research projects under Dr. Mititelu's mentoring. The first focused on multimodal imaging in a series of patients with Autoimmune Retinopathy (AIR), and the second examined outcomes of patients with disorganization of the retinal inner layers (DRIL) in the setting of retinal venous occlusions treated with anti-VEGF. Dr. Mititelu says both of these projects are currently in the manuscript writing stage, with the hope of them being published in peer-reviewed literature upon completion.
Overall, Aline enjoyed the diverse nature of her experiences here, the focus of her research topics, and the rigorous structure and high-caliber educational emphasis of our residency program. She described it as a valuable experience and ultimately the best fit for her. Along with the strictly ophthalmological learning experience, she also received a cultural learning experience, touring Madison, being immersed in English-speaking, trying new foods and learning about our American lifestyles.
Aline says there are many lessons she has gleaned from her observership, but the most important thing she will take back to her own practice is the involvement of patients in their own care. While observing in the clinic, Aline was surprised to find patients coming in with ideas or questions and having already read information online about certain drugs and treatments. Though the patient-doctor relationship in Brazil is different, Aline hopes to establish a partnership with her patients, listening to them and fostering open dialogue.
Although Aline's time at the Department of Ophthalmology and Visual Sciences has come to a close, she will always be appreciated. "She has been a welcome visitor in our department and has demonstrated a keen scientific curiosity. She is well-organized and brings a unique perspective to her projects," Dr. Mititelu says.
We have greatly enjoyed hosting Aline, as we always learn from visiting students, doctors and researchers. We hope to continue to build this program and foster international, intercultural learning in the study of ophthalmology, through mutual learning and collaboration.
Aline talks more about her experience at UW-Madison below: