New Physician Assistant is Scaling New Heights
Featured News // News // Patient Care // Feb 08 2019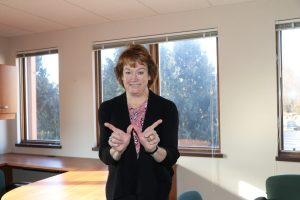 Scaling mountains sounds daunting to most, but for Karla Wethal, PA-C, it is what propels her to go higher and achieve more in life. Karla recently joined the UW Health and University of Wisconsin – Madison Department of Ophthalmology and Visual Sciences (DOVS) team as its first-ever physician assistant on the nurse practitioner team. It was not an easy climb for her, but as with most ascending stories, it was certainly worthwhile.
Karla almost didn't complete her master's training in 2015 because she suffered a massive heart attack as she left a lecture at the Health Sciences Learning Center, where she was promptly resuscitated by a bystander using CPR and AED. Luckily, she made a full recovery and graduated with her Masters from the UW-Madison Physician Assistant Program. Now as a cardiac patient for the rest of her life, she uses hiking and mountain climbing to keep her heart strong while enjoying the natural beauty along the way.
Prior to her physician assistant training, Karla was an athletic trainer and worked in physical therapy for many years, in addition to owning her own family business and greenhouse. Being active and outdoors have long been a part of her life, as has helping people through healthcare.
Karla is excited about her role within DOVS because she will help optimize patients' surgical care and play an integral role in their experience at UW Health Eye Clinics – reviewing full health histories, making personalized preoperative medical recommendations for the patients and helping ensure their outcomes are positive.
DOVS clinical faculty are delighted to have Karla on the pre-surgical provider team at University Station, too.
"Our now-expanded team of physician assistant and nurse practitioners plays a vital role in our multidisciplinary care of surgical patients. This team uses best practices and state of the art expertise to ensure that patients are in their best overall condition to move forward safely with delicate eye surgeries. Our experienced advanced practice providers take on a key role working with patients and communicating between primary care providers, medical specialists, and dovs surgeons. Karla and our nurse practitioners, molly kelley and jane seliger, are absolutely essential to patients having top-notch surgical experiences at uw health,"

says Dr. Mark Lucarelli, Medical Director of University Station Clinic and oculoplastic surgeon.