UW Hospitals and Clinics Among Nation's Top 20
Fellows // News // Patient Care // Resident Highlights // Residents // Aug 02 2019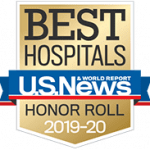 For the first time in the history of U.S. News & World Report's "Best Hospitals" rankings, University of Wisconsin Hospitals and Clinics are listed on the Honor Roll – the 20 most highly ranked hospitals in the nation. The designation, which includes both University Hospital and UW Health at The American Center, puts the hospitals at no. 17 among the more than 4,500 analyzed.
In addition, UW Hospitals and Clinics were highly ranked in 12 of the 16 medical and surgical specialties ranked by the magazine. It also retains its No. 1 ranking in the state of Wisconsin. A top-50 ranking means the ranked hospital is in the top two percent of U.S. hospitals.
UW Hospital and Clinics is nationally ranked as follows:
In addition to the top 50 rankings, UW Hospital was ranked as high-performing in:
Abdominal aortic aneurysm repair
Aortic valve surgery
Chronic obstructive pulmonary disease
Colon cancer surgery
Heart bypass surgery
Heart failure
Hip replacement
Knee replacement
Lung cancer surgery
High-performing hospitals are those in the top 25 percent within a given specialty.
"This represents a huge leap forward in the rankings for UW Health," said UW Health CEO Dr. Alan Kaplan. "The goal for us must always be the continual improvement of patient care, but it is very gratifying to be ranked among the nation's top 20 hospitals. I'm proud of the level of excellence our physicians and staff bring to work every day."
The magazine released the 2019-20 edition of the hospital rankings today. More than 4,500 hospitals were surveyed. Only 165 ranked in at least one specialty. Measurements include the use of advanced technologies, patient volume, nursing intensity and a high-level trauma center. UW Hospital is a Level I trauma center for both adults and children.
Four specialties were ranked by reputation alone.
UW Hospital and Clinics (505 beds) and UW Health at The American Center (56 beds) are part of the UW Health system, which also includes American Family Children's Hospital; the UW Medical Foundation (physicians' group); the Carbone Cancer Center and six regional cancer centers; SwedishAmerican in Rockford and Belvidere, Illinois; the UW Health Rehabilitation Hospital, and an affiliation with UnityPoint Health-Meriter.
Top Children's Hospital
UW Health's American Family Children's Hospital was also ranked among the best children's hospitals in the U.S. News & World Report 2019-20 rankings. Read more.