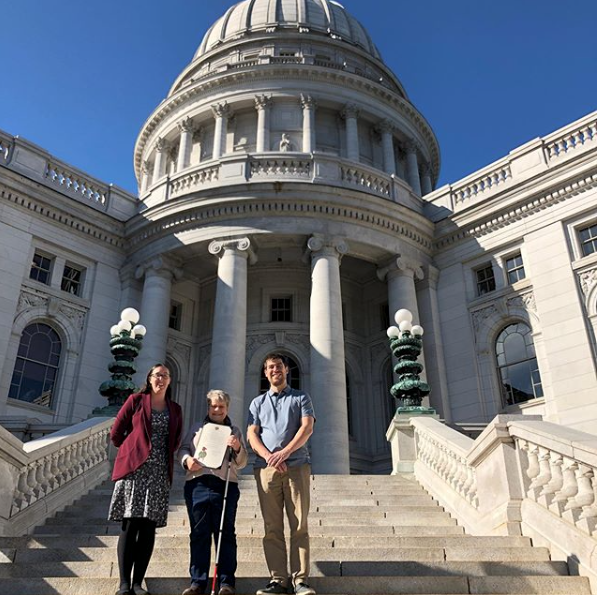 WCBVI Spearheads Safety Efforts on White Cane Safety Day
News // Vision Rehab // Oct 24 2019
The Wisconsin Council of the Blind & Visually Impaired, a long-standing partner of the department, coordinated a successful campaign this month in conjunction with White Cane Safety Day, a national observance that is recognized annually on October 15. The Council continually advocates and educates about the White Cane Law year-round, encouraging year-round independence of people in the blind and visually impaired community.
17 municipalities, plus the governor's office, issued White Cane Safety Day proclamations. Some of those communities include: Brookfield, Eau Claire, Green Bay, Janesville, La Crosse, Madison, Menomonee, Milwaukee, Neenah, Oshkosh, Stevens Point, Sun Prairie, Watertown and West Allis.
The Council also ran bus ads in La Crosse and Eau Claire with messages such as, "Thanks for stopping ten feet from the crosswalk. You're the BEST!" Denise Jess, CEO/Executive Director, and other Council leadership represented the organization with presentations to the Department of Transportation and at the various municipality events.
As we know well, the need for pedestrian safety extends well beyond White Cane Safety Day. Each of us can play an important role in creating communities that are safe and welcoming for all pedestrians. -denise jess, ceo/executive director
Media:
La Crosse WXOW: https://wxow.com/news/top-stories/2019/10/11/la-crosse-recognizes-white-cane-safety-day/
La Crosse WKBT News 8000: https://www.news8000.com/news/la-crosse-mayor-proclaims-oct-15-as-white-cane-safety-day/1131445389
Madison WMTV NBC 15: https://www.nbc15.com/content/news/Madison-mayor-names-Oct-15-White-Cane-Safety-Day-562670631.html
Madison WKOW: https://wkow.com/news/2019/10/09/madison-city-officials-stress-pedestrian-safety-for-people-who-are-visually-impaired/
Madison Channel 3000: https://www.channel3000.com/news/city-recognizes-white-cane-safety-day/1130709155