New President of the UW Ophthalmology Alumni Association
Alumni News // News // Feb 20 2020
GREETINGS FELLOW ALUMNI!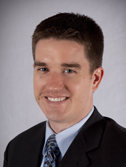 I'm excited to write to you as the new president of the UW Ophthalmology Alumni Association. 2020 is sure to be a special year for ophthalmology in general and the UW Department of Ophthalmology and Visual Sciences specifically.
As Josh Vrabec stepped down from his role as president last year—thank you, Josh, for your years of service, and good luck with the new solo practice!—I was honored and excited when Burt Kushner suggested I step into the position. I'm sure you would agree that we ophthalmologists have the greatest profession around. And what an incredible bridge our UW training has been to our careers, having shaped so much of the foundation we build our ophthalmology practice on every day.
I hope you'll read my full message here about the value and purpose of the OAA and how important we as alumni are to the department's continued tradition of excellence.
To me, the value and purpose of the OAA is all about connections; not only reconnecting and reminiscing with old friends at reunions, but also to foster new connections among current residents, alumni and our world-class UW faculty.
Some of my fondest and earliest memories of the DOVS are going to Grand Rounds as a medical student on the ophthalmology rotation and seeing the emeritus faculty—such as Drs. Dinny Davis, Frank Meyers, and Jim Allen, among others—in the front rows every week, rain, snow, or shine. I was impressed by their continued connection to the residents; their commitment to education and their involvement with the department well after their retirement from clinical practice.
What role do you as alum want to play in continuing the UW traditions we remember fondly? What opportunities are available to us to be among the names and faces current learners remember? How can we help advance scientific discovery and clinical research initiatives at our alma mater so more people can enjoy better vision?
You might be surprised by the ways we can give back – attend or present at Grand Rounds; assist with the annual Phacoemulsification course; or mentor senior residents on the annual international rotation to India. If you can't take time away from your practice, consider being a resource for current learners or recent graduates looking for practice openings in your area or to answer practice management questions.
Let's stay connected! Send Kristin Larson an email telling her about your favorite memory from training. We're collecting your stories, quotes, pictures and videos to share during the anniversary celebration.
On, Wisconsin!
– Tim Daley, MD, OAA President, (Residency, 2011, Fellowship – Pediatric Ophthalmology and Strabismus, 2012)