Mary Pratt, MD, Honored as Distinguished Alumni in 2020
Alumni News // News // Dec 08 2021
Mary Van Horn Pratt, MD'61 (Residency '65, Retina Fellowship '66) was selected as the UW Ophthalmology Alumni Association's Distinguished Alumni in October 2020. Mary was the driving force behind the campaign to update the James Allen Eye Library at the University Station Clinic.
"I want to honor Jim's teaching and help today's trainees," said Pratt. Her dedication to the UW Department of Ophthalmology and Visual Sciences (DOVS) exemplifies both the Wisconsin Idea and the department's pioneering spirit.
When she visited Madison to celebrate the life of Matthew "Dinny" Davis, MD, at his memorial in 2018, she was inspired to re-imagine the Allen Eye Library, named in honor of beloved faculty member, James Allen, MD, (Residency'64). Mary wanted to ensure that Dr. Allen's kindness and world-class teaching were embodied in the space where trainees learn today. Mary asked her peers to donate too, and David Stinchcomb (Residency '69) added his support to the 2020 renovation of the Allen Eye Library and Learning Laboratory. The new library was dedicated on January 23, 2020, thanks to Mary's continued leadership and pioneering.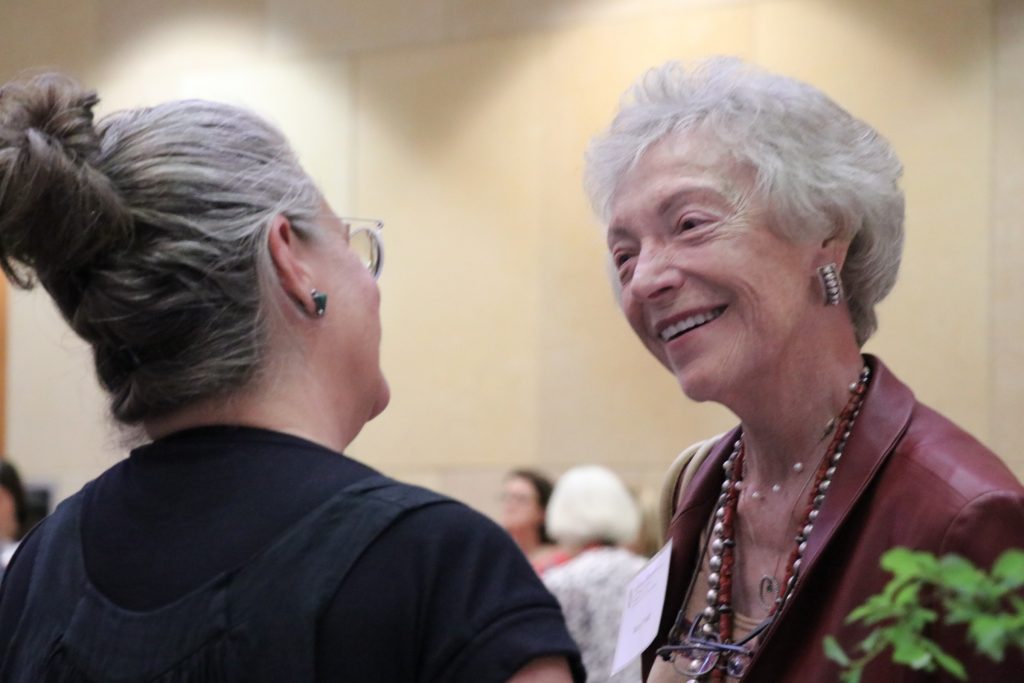 (Pictured: Mary Van Horn Pratt in 2018)
Mary comes from a long line of pioneers who worked diligently to help others thrive. Her parents, Paul A. and Caroline Pomainville, firmly believed that each child should learn and contribute to the greater good at the highest level possible. Mr. Pratt was a significant civic leader and served as vice president for philanthropy development at Beloit College as well as being a cabinet member for Wisconsin Governor Warren Knowles.
After high school in Wisconsin Rapids, Mary went to the University of Richmond to earn a bachelor's degree in chemistry in 1957 and returned to UW-Madison following her grandfather, Francis Xavier Pomainville, MD, into the field of medicine.
At the time of Mary's training not very many women went into medicine, making her a pioneer. She is the second woman to graduate from the UW-Madison ophthalmology residency program.
Mary was wed to Joseph B. Glennon, MD in 1965 and crisscrossed the United States to complete their respective trainings, which led to her faculty appointments at Tufts University, Boston University, Texas Tech University, University of Pennsylvania, and the University of California – Irvine. Mary's candor, compassion, and curiosity always positioned her as a kind, direct teacher cut from the same cloth as Allen. Mary taught throughout her career, and eventually served as the assistant chief of ophthalmology at the Long Beach, CA Veterans Administration Hospital from 1982 to 1986. Mary later transitioned to a concurrent clinical appointment at the University of Virginia and to serve as the chief of ophthalmology at the Salem, VA Veterans Administration Hospital from 1986 to 1999. Mary was often lauded for her creative ways to approaching patient care.
Mary retired in New Mexico with her second husband, Sidney N. Franklin, MD, where she is active in supporting the Santa Fe Chamber Orchestra.
DOVS is grateful for Mary's continued commitment to Allen's teaching and to today's trainees.