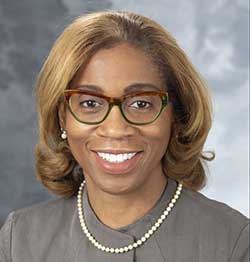 Department Chair to be Honored at Outstanding Women of Color Awards
Featured News // News // Terri Young // Nov 15 2022
"A force of nature within the world of ophthalmology."  That is how Terri L. Young, MD, MBA, has been described.
Dr. Young, who is Chair of the University of Wisconsin Department of Ophthalmology and Visual Sciences, has been named a 2022-23 Outstanding Women of Color Awards recipient from the University of Wisconsin-Madison. The award was announced during UW-Madison's annual Diversity Forum November 14. Recipients will be honored at a campus-wide reception on March 2, 2023.
These annual awards – now in their 15th year – acknowledge and honor women of color among university faculty, staff, students and in the greater Madison community whose advocacy, activism, and/or scholarship have positively transformed their organizations, and whose efforts advance equity, diversity, inclusion and belonging for marginalized populations.
Young was nominated by four DOVS faculty members: Kimberly Stepien, MD and Amy Walker, OD, Co-Vice Chairs of Clinical Affairs; Daniel Knoch, MD, who serves as Vice Chair of Education and Faculty Development, as well as Director of Medical Student Education; and Andrew Thliveris, MD, PhD, Vice Chair of Resident Education, and William S. Middleton Veterans Affairs Hospital Ophthalmology Service Chief.
"Dr. Young is a force of nature within the world of ophthalmology," wrote Stepien and Walker in their nomination letter. "She is the only African American female Chair of Ophthalmology in the country (in a non-Historically Black College or University), truly forging the way in the field of ophthalmology that is predominantly male and white."
Young – a pediatric ophthalmologist and ophthalmic geneticist – is the Peter A. Duehr Endowed Professor and has served as department chair since 2014. In addition to recognizing her contributions to clinical care and research, the award selection committee was impressed by her efforts to mentor students from underrepresented communities, and to attract women and minority medical students to pursue a career in ophthalmology.
Among other initiatives, Young has been active in The Minority Ophthalmology Mentoring (MOM) program, which offers intentional training and personal one-to-one mentoring for students from marginalized groups in an effort to enhance their competitiveness for ophthalmology residency training positions. The program is co-sponsored by the Association of University Professors in Ophthalmology (AUPO) and the American Academy of Ophthalmology (AAO).
[Dr. Young] realizes that career interests start in early academic years," added Thliveris. "She shares her personal journey of becoming one of few African -American female ophthalmologists and researchers in the country and giving advice and motivation based on her personal experiences. Her story clearly emphasizes how mentors are very important for everyone's career advancement."
Nationally, Dr. Young recently completed an appointment as the Chair of a Diversity, Equity and Inclusion Task Force of the 32,000-member AAO to assess and change membership demographics in all aspects of the organization. Locally, she serves on the Board of the Wisconsin Council of the Blind and Visually Disabled.   Also, through a relationship with Madison Area Technical College, Young has improved educational opportunities and access to our joint ophthalmic technician training program.
Within the department, Young has instituted numerous initiatives to promote diversity in faculty and staff. "[Dr. Young] has supported a new safe-space program called the DOVS Equity Alliance," said Knoch. "It is co-led by administrators, staff, and providers to provide bi-weekly forums of sharing, presentations, journal and book discussions, video and TED talk viewing, to absorb, reflect, and act against issues of "othering'.  She also has made it a priority to invite a quarterly speaker to our weekly grand rounds conferences to discuss aspects of health and gender equity, cultural competency, implicit bias, privilege, pipeline programs, and the like."
This UW Outstanding Woman of Color Award follows on the heels of a similarly prestigious recognition from the Women in Ophthalmology, Inc. In October 2022, Young received its highest honor – the Suzanne Véronneau-Troutman Award – which recognizes a female ophthalmologist who has been a champion for women in the ophthalmology field internationally within the previous year.
In addition to her work with the AAO, Dr. Young served as the new Board of Trustee Chair of the Compensation Survey Committee of the AUPO. She led efforts by partnering with Sullivan-Cotter to augment the survey questions sent to all academic ophthalmology departments. The AUPO obtains and releases information of Sullivan -Cotter benchmarks for sub-specialty salary thresholds nationally on a bi-annual basis. The survey sent to US ophthalmology departments now requests demographic data of gender, race/ethnicity, and years after residency training, to determine if compensation inequities exist nationally in our specialty.  Not only did this effort reveal compensation inequities by gender but exposed that these inequities begin at the very onset of one's career as a new assistant professor or instructor- clearly indicating gender bias with serious disparity implications for wealth generation.  The results revealed marked discrepancies in compensation between genders in all ophthalmology subspecialties.   Dr. Young presented this data at the national AUPO meeting in January of 2022.