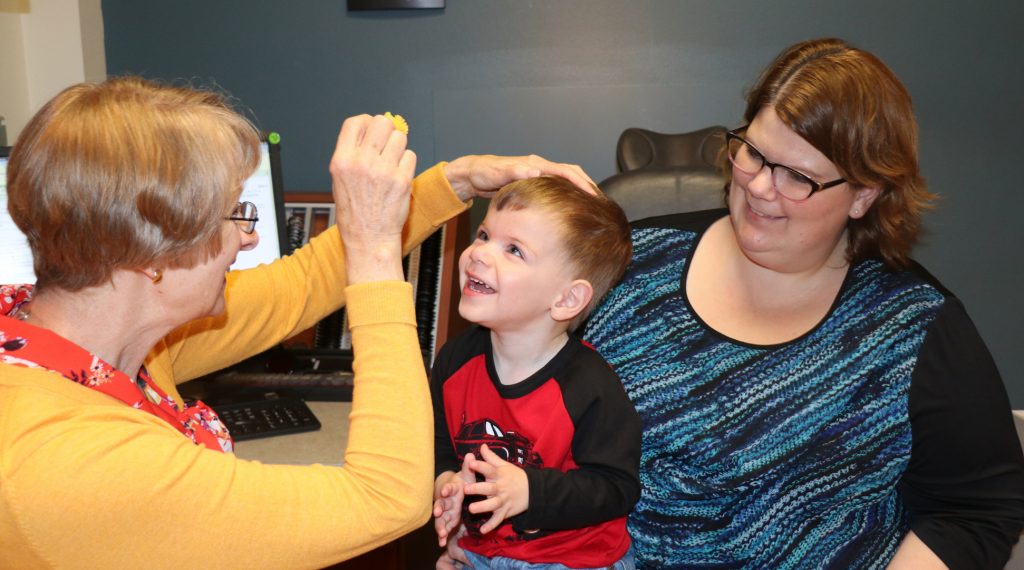 Strength in Numbers
Annual Report // News // Patient Care // Pediatrics // Dec 14 2017
UW Health Eye Clinics Have a Robust Orthoptics Team
Approximately 350 orthoptists are practicing nationally and we are fortunate to have seven at our UW Health Eye Clinics in Madison. An impressive number when you consider that most academic programs only employ one orthoptist, often in a part-time capacity. Orthoptists may have less name recognition than optometrists and ophthalmologists, but their role on a patient's eye health team is vital.
Orthoptists are trained to detect eye movement abnormalities, amblyopia (lazy eye), and associated neurological issues, specifically those related to binocular vision problems. They do this with eye charts, prisms, sensory tests, and depth perception tests. Orthoptists analyze patient symptoms and orthoptic test results and then discuss these findings and potential treatment plans with the ophthalmologist.
Jacqueline Shimko, certified orthoptist, has practiced at UW Health for 42 of her 43 years in the profession. Nearing retirement, she reflected on the early department leadership that laid the foundation for such a healthy orthoptics team.
In 1971, Dr. Thomas France joined the Department of Ophthalmology and Visual Sciences as a professor and director of the pediatric and adult strabismus clinic. He trained with orthoptists during his fellowship and campaigned to bring them to UW Health. Dr. Burton Kushner joined the department as a professor in 1974 and became the director of the clinic in 1997.
Together, they envisioned working with an orthoptist as a clinical partner who can independently evaluate patients, collaborate in clinical research, and participate in educating residents and fellows. They became strong advocates for orthoptists to also lecture, publish papers and present at professional organizations as ambassadors of the department. Dr. Kushner noted, "My academic career would never have been as successful were it not for the talented orthoptists on my team."
As the reputation of the department grew rapidly, so did the number of patients, and consequently the orthoptist team. Shimko commented, "The reason I stayed is because of my relationship with the doctors. The fabulous care for the patients has continued with every orthoptist they have brought on. It's a nurturing and supportive environment."
The Department of Ophthalmology and Visual Sciences offers a two-year orthoptist training program. The program was created in 1977 and is one of only twelve in the nation. 17 orthoptists have graduated from the program. All of the graduates successfully passed the board exam administered by the American Orthoptic Council.
In a world where disorders of binocular vision are common in both adults and children, UW Health Eye Clinics are fortunate to have a robust team of expert, highly experienced orthoptists that is passionately serving patients and families, assisting with research, and educating future eye care specialists.
"I rely on the orthoptists to initiate the patient experience in our pediatric and adult strabismus clinic. They are expertly trained to identify motility and eye movement disorders in our patients," said Dr. Yasmin Bradfield, pediatric ophthalmologist at UW Health. "Their accurate exams and expertise assist me, and that collaboration helps to create a comprehensive treatment plan for each of my patients."