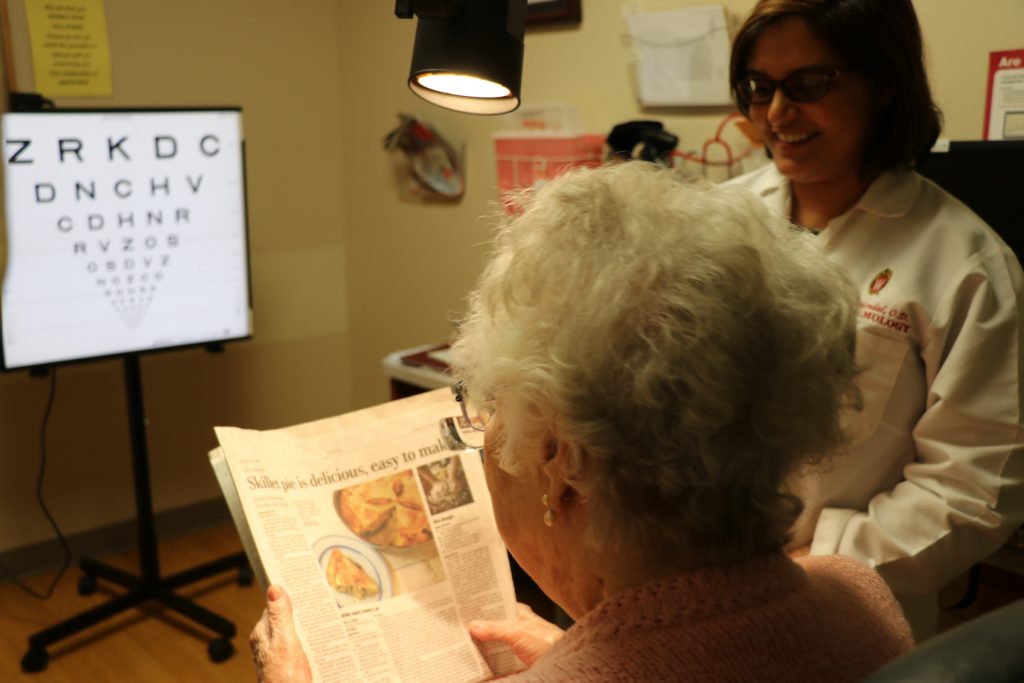 Partnership With Lighthouse Guild to Increase Low Vision Awareness
Annual Report // Eye Health // News // Patient Care // Dec 16 2017
Drs. Melanie Schmitt and Sanbrita Mondal have a vision: to increase the quality of life for patients with low vision diseases. Dr. Schmitt has had a long-standing passion for low vision patient care, and the development of the Low Vision Service at UW Health Eye Clinics was her brainchild. Dr. Mondal launched this clinic just over a year ago, in December of 2016.
Their vision is consistent with the mission of the Lighthouse Guild, a nationally renowned non-profit vision and healthcare organization based in Manhattan. The Lighthouse Guild has served the visually impaired community for over 200 years. The organization recently launched a new initiative that provides financial support and educational resources to university ophthalmology departments.
Reflecting on the partnership, department chair Dr. Terri Young noted, "We are honored to be one of only five university departments in the nation chosen by the Lighthouse Guild to participate in this initiative. The grant brings resources to the University of Wisconsin Department of Ophthalmology and Visual Sciences that elevate our strategies for improving the lives of patients with debilitating eye diseases leading to poor vision or blindness."
Dr. Mondal offered details on how the initiative will take shape within UW Health Eye Clinics. "First, on the clinical end, we will work to increase the awareness of low vision services that are available to patients. We intend to do this not just within our own department, but within UW Health as a whole and in the community. In fulfilling our mission as a research institution, we will collect data from patients who have low vision diseases. We will monitor the low vision services they receive, and then register and herald the services that have a measurable, positive impact."
Dr. Schmitt added, "On the educational front, we will provide additional low vision training to our residents and staff, teach all departmental members of the services that can be offered, and encourage patients to seek out these services early in their disease rather than waiting until their vision and quality of life have deteriorated significantly. In particular, we hope the residents will use this information in their future practices."
This partnership will truly transform the physical and emotional landscape of a patient's low vision journey at UW-Madison.
Dr. Sanbrita Mondal
Low Vision Clinic
Dr. Melanie Schmitt
Low Vision Clinic