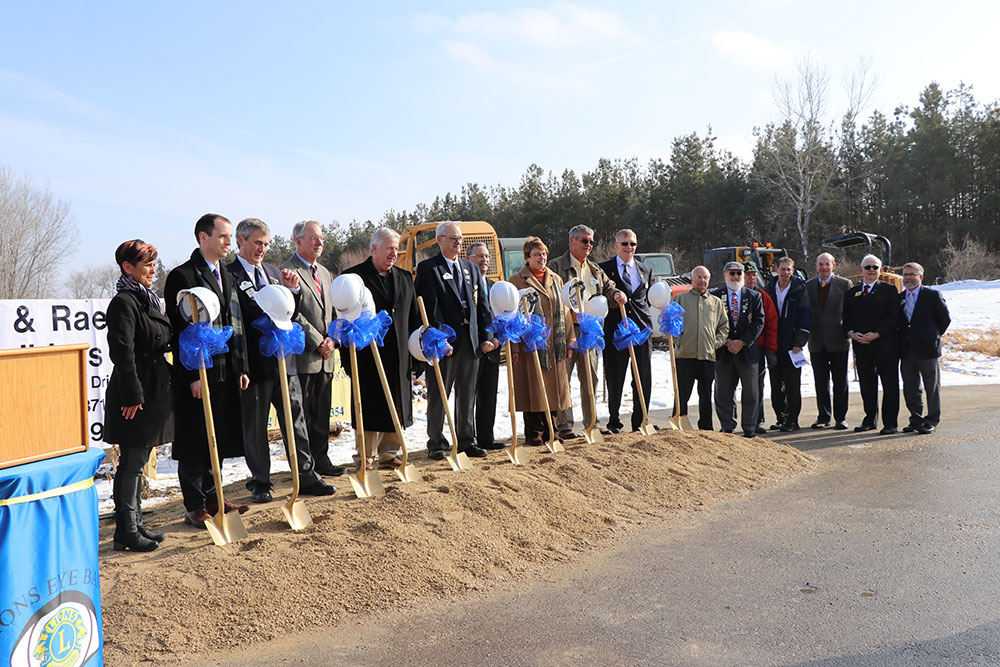 Lions Eye Bank of Wisconsin Breaks Ground on New Facility
Cornea // Events // News // Patient Care // Research News // Feb 01 2018
Lions Eye Bank of Wisconsin (LEBW), stakeholders, and city officials gathered on January 25, 2018, for the official groundbreaking ceremony of the new Lions Eye Bank of Wisconsin facility.
LEBW's Executive Director, Darice Langham, kicked off the ceremony. Langham was followed by two guest speakers, Eric Esser, Deputy Secretary with the Department of Safety and Professional Services, and Neal Barney, MD, professor and cornea specialist with the University of Wisconsin Department of Ophthalmology and Visual Sciences. Other guests in attendance included Secretary Jay Risch with the Wisconsin Department of Financial Institutions, representatives from UW Organ and Tissue Donation, RTI Donor Services, several Wisconsin Lions Club members, and other supporters.
The new 14,000 sq. ft. LEBW building, to be located at 5003 Tradewinds Parkway in Madison, will offer expanded space for daily operations. It also aims to be a resource for professionals who are dedicating their lives to improving vision, with wet lab training space and resources for residents and ocular surgeons to learn new procedures and perfect their techniques. Dr. Barney noted, "the partnership between LEBW and the Department of Ophthalmology and Visual Sciences will drive research, teaching, and improve the care of patients."
Lions Eye Bank of Wisconsin is on track to serve more than 1,200 donors and families for fiscal year 2017-2018 and is expected to place more than 1,700 corneas for transplant, research, and education. LEBW has doubled in size in the past few years, growing to a staff of 40, and more growth is anticipated in the next five years.
A non-profit 501(c)(3) organization, Lions Eye Bank of Wisconsin provides more than 99% of Wisconsin's corneal tissue for local transplant surgeons. No cornea leaves the state until every Wisconsin patient's needs are accounted for. LEBW is a key partner of the Department of Ophthalmology and Visual Sciences, providing financial support for research and clinical endeavors and keeping the department connected with Lions Clubs across the state.
Over 2,000 Wisconsin Lions Club members volunteer to recover and transport corneas by day and by night, no matter the weather. In many other states these technicians and drivers are paid employees. Corneal transplant surgery is the most frequently performed human transplant procedure in the United States. On average, 48,000 corneal transplants are performed each year.
Rendering of new Lions Eye Bank of Wisconsin facility at 5003 Tradewinds Parkway, Madison