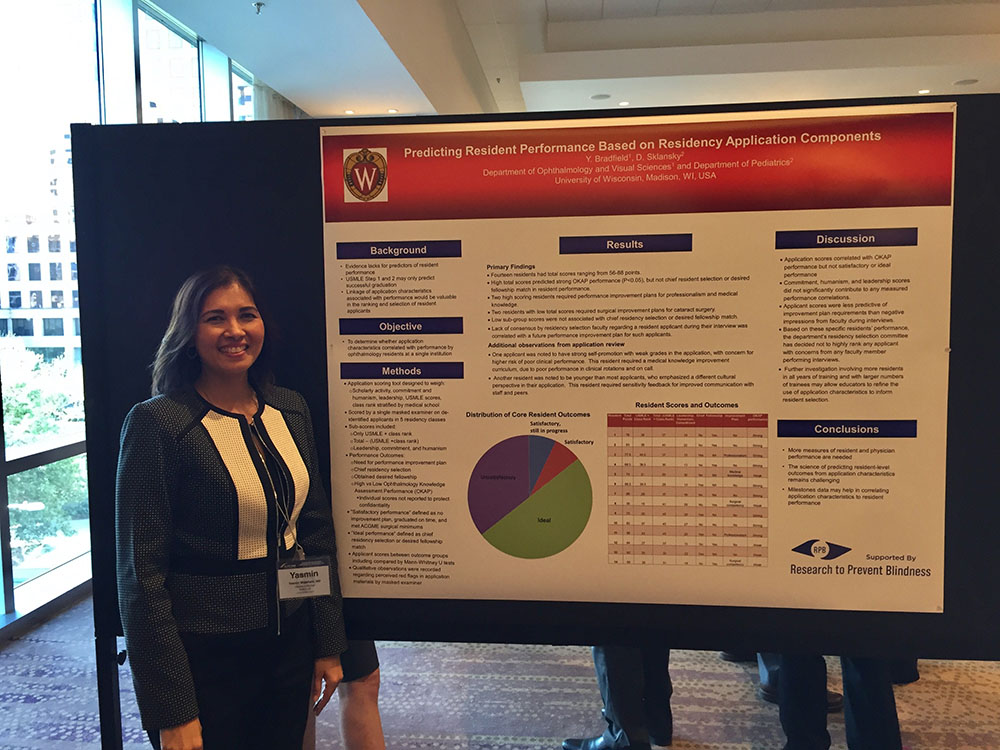 UW Faculty Present at 2018 AUPO Annual Meeting
Education News // Events // News // Feb 12 2018
Several Department of Ophthalmology and Visual Sciences (DOVS) faculty and administrative team members recently traveled to Austin, Texas, for the 2018 Association of University Professors of Opthalmology (AUPO) Annual Meeting. The four-day event offers support, information and leadership opportunities to department chairs, program directors, faculty members and other staff.
The following DOVS faculty presented at the 2018 meeting. Yasmin Bradfield, MD, pictured above, participated in a poster session, presenting, "Predicting Resident Performance Based on Residency Application Components."
Daniel Knoch, MD, was a panelist for two sessions of the "Veterans Affairs and Academic Ophthalmology Relations" workshop: "Resident Involvement in VAMC" and "Academic Faculty Involvement in VAMC." Dr. Knoch has been newly elected to the AUPO Medical Student Educators Council and presented an update on the AAO website at the Medical Student Educators meeting.
Andrew Thliveris, MD, PhD, was a moderator for the "Academic Faculty Involvement in VAMC" session. Dr. Thliveris was also a panelist for "Drinking from a Fire Hose: A Primer for New Program Directors," and presented "The Journey of Program Improvement," as part of the workshop.
Terri Young, MD, MBA, moderated a workshop, " Research Considerations in the Clinic Setting." Dr. Young presented, "Clinical Research and Philanthropy," as part of the workshop.
Michelle Chizek, MBA, director of business services, currently serves as AUPO's administrative council president and was actively involved in the planning of the 2018 Annual Meeting.
Yasmin Bradfield
MD
Michelle Chizek
MBA
Daniel Knoch
MD
Andrew Thliveris
MD, PhD
Terri Young
MD, MBA