Orangetober: Donate Tissue, Save Sight
Cornea // Featured News // News // Patient Care // Oct 05 2018
Orangetober is upon us. This month-long campaign was created by the Organ and Tissue Donor division of UW Health to encourage residents to register as organ, tissue and eye donors on the Wisconsin Donor Registry.
There is a critical need for more organ, tissue and eye donors across the country. In the Department of Ophthalmology and Visual Sciences (DOVS), we pay very close attention to the transplant numbers of one particular tissue: the cornea. Over 50,000 corneal transplants were performed in the United States in 2017.
The cornea is the transparent, dome-shaped surface of the eye that controls and focuses the light that enters the eye. A corneal transplant, also called a keratoplasty, is a surgical procedure that replaces part of the cornea with corneal tissue from a donor. A corneal transplant can restore vision and reduce pain in a damaged or diseased cornea. The surgery is, in part, so common because the cornea is avascular. Therefore, the procedure does not require blood type matching to transplant.
The Lions Eye Bank of Wisconsin (LEBW) plays an incredibly important role in corneal transplants in the state. LEBW is the only eye bank in the country that relies solely on the volunteer efforts of Lion Clubs transporters to move donated corneal tissue. Volunteers transfer boxes of eye tissue from the various pickup/drop off locations to the LEBW office in Madison or outbound to surgery centers, along what is known as "The Corneal Express."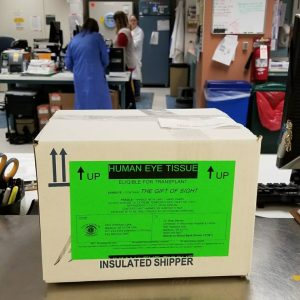 LEBW provides 100% of Wisconsin's corneal surgery needs for corneal transplant surgeons throughout the state. No cornea leaves the state until every Wisconsin patient's needs are accounted for. In 2017, LEBW worked with 1,269 donors to recover 1,848 corneas for transplant. 861 corneas were placed in Wisconsin, 334 in the United States, 396 internationally, and 257 were placed for education and research.
Marina Haan, a patient of Sarah Nehls, MD, associate professor and cornea specialist, can testify to the importance of donors. Haan learned that she had an incurable cornea disease, granular corneal dystrophy, when she was just 32 years old. Corneal dystrophies are a group of genetic, often progressive, eye disorders in which abnormal material often accumulates in the cornea.
Haan first made a trip to her optometrist in the 1970s because she wasn't seeing well. She likened the effect of corneal dystrophy on her vision to looking through a snowstorm or having Vaseline smeared over the eyes. After examining her eyes, the optometrist left the room to look in a book, returned, and said, "Well, it looks like corneal dystrophy."
By the late 80s, Haan was experiencing severe pain in her eyes. She made an appointment with Frederick Brightbill, MD, clinical professor with DOVS and one of the first cornea specialists in the Madison area. Haan had her first corneal transplant in her right eye in 1988. LEBW facilitated the delivery of Haan's new corneal tissue after she spent some time on the transplant list. After the surgery, once the stitches were removed, Haan was struck by her ability to notice and distinguish details on a tree trunk.
Corneal transplants, on average, are expected to last about 20 years. Because this is a genetic disorder, Haan's ophthalmologists over the years have had to consider the long-term nature of her eye disease.
Haan has been seeing Dr. Nehls for about 10 years. The corneal dystrophy continued to progress after the transplant, so Haan next had a series of phototherapeutic keratectomies (PTK) done, most of them during her time as a patient of Dr. Nehls. PTK is a procedure similar to laser correction surgery and aims to remove or decrease the material affecting visual acuity and smooth any irregularities in the corneal surface. Haan notes that Dr. Nehls' purposeful, long-term approach to save her sight over the course of many steps, over the course of many years, is one of the aspects of her experience with UW Health that she really appreciates.
In September, Haan received a cornea transplant in her left eye. The transplant has made it possible for Haan to drive on highways again, which opened the door for her to start volunteering at the local humane society. In 2019, her care plan includes cataract surgery. She has full faith in Dr. Nehls' plan and looks forward to continuing her active lifestyle, including time with grandchildren and on the tennis court.
For more information on becoming an organ or tissue donor, visit donatelifewisconsin.org.
Sources: Lions Eye Bank of Wisconsin, American Academy of Ophthalmology, The Corneal Dystrophy Foundation