Low Vision Lunch and Learn Series Continues to Educate Staff
News // Patient Care // Vision Rehab // Oct 17 2018
Nearly 140 Department of Ophthalmology and Visual Sciences (DOVS) and UW Health providers, technicians, residents, students, schedulers, administrative, and other clinic and support staff attended the second installment of the Low Vision Lunch and Learn sessions, held in October at various UW Health Eye Clinic locations.
The sessions were presented by Marshall Flax, CLVT, COMS, a respected low vision therapist in the Madison area. Flax worked for the Wisconsin Council of the Blind & Visually Impaired for 24 years as a certified low vision therapist and a certified orientation and mobility specialist before retiring in 2014.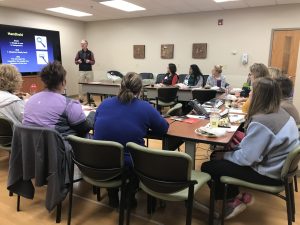 The October sessions included a quick review of the visual impairments that were presented in March. Flax then introduced optical and non-optical tools that may be recommended to low vision patients. These included time-tested instruments such as magnifiers and spectacles, as well as new equipment such as subscription-based, on-demand visual assistant technology. Flax also discussed clinic work-flows and common courtesies that can be implemented to support patients in a respectful and empathetic way.
Flax noted that, "In preparing my remarks, I spoke with Dr. Young [department chair and Peter A. Duehr Professor of Ophthalmology], who pointed out that the department's low vision efforts aim to move from feeling sympathy to being helpful. I thought this was a great goal for this Lunch and Learn, providing staff with information that they can use to help patients with visual disability."
The Low Vision Lunch and Learn sessions were created as part of an important partnership with The Lighthouse Guild, a nationally renowned, non-profit vision and healthcare organization based in Manhattan, New York. The partnership provides financial support and educational resources to university ophthalmology departments.
The Low Vision Lunch and Learn sessions build awareness within our own department and clinics about the visually impaired, how to interact with the visually impaired in our clinics, and what low vision services are available in our community. Upcoming low vision educational events will be announced in early 2019.