Roomasa Channa, MD, Selected for Competitive ARVO Leadership Program
News // Dec 14 2021
Roomasa Channa, MD has been selected to participate in the Association for Research in Vision and Ophthalmology (ARVO) Women's Leadership Development Program, starting in 2022.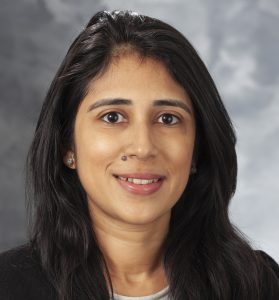 This highly-competitive program began in 2016 and is open to early- to mid-career women scientists. According to ARVO, the yearlong program provides emerging women leaders with a highly interactive learning experience focused on leadership skill development and facilitating leadership opportunities and networking within the organization.
"It's a great way for women clinician-scientists to get to know others across the country and the world," Channa says. "It's a really great forum to get to know other people who are in the same boat as you, doing similar things, and are doing them successfully. I'm looking forward to interacting with and learning from everyone in the group."
Channa, who joined UW in September 2020, is an assistant professor in the Department of Ophthalmology and Visual Sciences. As a clinician, Channa treats patients with retinal issues, such as diabetic retinopathy, retinal detachments and macular degeneration, among other conditions.
As a researcher, she uses artificial intelligence and big data to better understand and improve outcomes for patients with diabetic retinal diseases. She recently joined the department's A-EYE research unit as a co-director to further foster research and implementation of AI algorithms to improve patient care and understanding of diseases.
When the ARVO leadership development program begins in May, each participant, including Channa, will be paired up with a mentor. These individuals provide guidance and support to participants, as well as lending their perspective on challenges both professional and personal.
At a time when many women are leaving the workforce – frequently due to challenges stemming from the COVID-19 pandemic – Channa says that programs aimed at fostering and mentoring young women in academia and the sciences are more important than ever.
The one-year program runs from May 2022 to April 2023.
Channa first joined ARVO as a member in 2009, and also participates in the activities of other professional organizations, including the American Academy of Ophthalmology, American Society of Retina Specialists and the Macula Society.