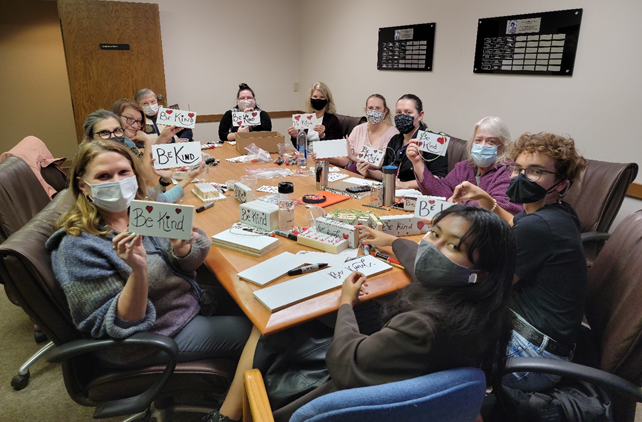 DOVS Support Staff, Local Artist Team Up to Spread Kindness
News // Jan 19 2022
Members of the UW Department of Ophthalmology and Visual Sciences support staff and a local artist recently teamed up to share a simple, but important reminder: Kindness is everything.
During the support staff's monthly meeting in November, which included a new community service component, the team was joined by Doris Gassen, who makes and paints wooden "Be Kind" signs.
Doris has been making these signs to spread kindness both locally and globally. She has created over 10,000 signs and there is no sign of her stopping. The support staff appreciates the work that Doris does and was more than happy to assist her in her mission of spreading kindness.
"Doris and I have been friends for over 20 years, and when I saw a recent news story on her work with the Be Kind signs, I wanted to help in some way," said administrative supervisor Michele Kempfer. "So I picked up a load of signs and distributed them. I talked with the team about the Be Kind signs and they wanted to do their part as well. I asked Doris about working with my team and we set up a time for her to join in our regular monthly meeting."
With Doris's guidance, the support staff team created over 100 signs, many of which can already seen on desks, tables and windows across the DOVS administrative offices.
Kempfer adds: "I think it was a great experience for everyone!"
Some of the recently-made signs are still available! DOVS staff can contact Michele Kempfer if they'd like one.
And remember: Be kind!
(Pictured above, from left to right: Audra Keith, Becca Raven Uminowicz, Jenny Priebe, Doris Gassen, Brittany Nelson, Pat Peterman, Allie Lippitt, Amanda Lacy, Jenny Pulvermacher, Ioannis Kalimeris and Dipta Danena. Not pictured is photographer Michele Kempfer)