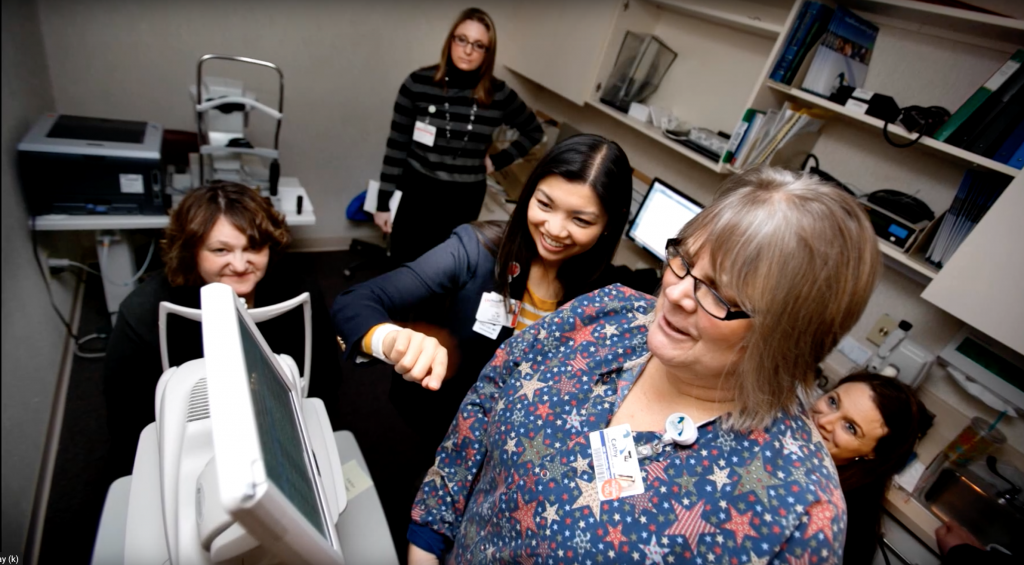 I-TRUST Study Seeks to Increase Eye Screenings, Preserve Sight for Rural Patients Across the Country
News // Tele-Ophthalmology // Jan 21 2022
More patients in rural areas across the nation could soon have increased access to vision-saving eye screenings based on a new multi-center clinical trial, led by an investigator at the University of Wisconsin Department of Ophthalmology and Visual Sciences.
Yao Liu, MD, MS is an assistant professor and the Director of the UW Teleophthalmology Program. In September 2021, her I-TRUST (Implementation of Teleophthalmology in Rural Health Systems Study) Study received $4.4 million in funding through a National Institutes of Health/National Eye Institute (NIH/NEI) UG1 grant. This will enable Liu to expand on her previous research to increase diabetic eye screenings in rural communities here in Wisconsin and beyond.
Diabetic eye disease affects an estimated 4.2 million Americans and remains the leading cause of blindness among working-age adults in the United States. Early detection and treatment can prevent 90 percent of severe vision loss, but data shows that nearly half of Americans living with diabetes are not obtaining their yearly eye screenings, as recommended by the American Diabetes Association.
That means over 17 million people – many of whom live in rural areas – are missing out on this important screening.
"Because patients often have no symptoms until very late in the disease, we tend to see patients with diabetic eye disease at a point where we've lost a critical opportunity to intervene earlier," Liu said. "Getting eye screenings and treatment early, using lasers and medications, makes it much more likely that we can prevent blindness from diabetes, preserving a patient's vision and their independence."
For rural patients, a major barrier is having to travel long distances to obtain eye screening from an eye care provider. But teleophthalmology, Liu says, represents an exciting solution to close the rural screening gap.
Rather than travelling to an eye clinic, patients can have photographs of the back of their eyes, or retinas, taken conveniently at their primary care clinic using a special camera. The images are then electronically sent to and analyzed by an eye doctor who could be located hundreds of miles away.
While this service has worked very well at the Veteran's Affairs (VA) health system for decades, Liu notes that the technology hasn't been widely used in the nation's primary care settings, where the majority of rural patients with diabetes obtain care. So she set out to understand why that was happening and find a solution.
"We found that a major barrier is a lack of integration of this technology into the busy day-to-day workflow of a primary care clinic," Liu said. "Clinicians and staff regularly order lab tests and x-rays but may not have much experience encouraging and talking with patients about obtaining an eye photo. That means eye screening can easily be missed during a clinic visit, especially when a patient has more pressing health needs to address. We wanted to find a way to make using this vision-saving technology easier for primary care clinicians, staff, and patients."
To do this, Liu developed and launched Implementation for Sustained Impact in Teleophthalmology (I-SITE), in partnership with Mile Bluff Medical Center in rural Mauston. I-SITE is the first implementation program specifically designed to overcome barriers to teleophthalmology use by tailoring its integration into rural primary care clinic workflows. In this program, a trained coach works with the primary clinic to implement strategies to better integrate and increase the use of this technology.
Since I-SITE launched in 2017, the results have been highly promising.
"We were not only able to increase eye screening, which resulted in saving patients' vision, but we were also able to show that the increase in screening was sustainable," Liu said. "Previous studies of teleophthalmology often showed high screening rates initially, but within a year or so, the screening rates would go back down. But with I-SITE, we've been able to sustain that increase for over three years at Mile Bluff Medical Center."
Now, with the launch of the I-TRUST Study, Liu is hoping to replicate this success at 8-10 rural health care systems across the United States. The hope is to see similar results across a variety of health systems, and also to learn more about what factors might predict the effectiveness of the I-SITE program, such as differences in the characteristics of individual health systems and clinics in different regions of the country.
Study investigators will also be looking for another key factor: whether patients actually follow up for eye care after abnormalities are found on eye screening.
"Even if patients get eye screening, if they don't go and see an eye care provider to get further testing and treatment for their eye disease, it's a major problem," Liu said. "There's increasing recognition that many patients are not getting the full benefit they should from screening because they did not follow up for eye care, and that this can happen even while a patient is actively receiving a series of treatments from an eye doctor. We are trying to better understand what influences patient follow-up and how we can improve it."
In the future, knowledge gained from the I-TRUST study could be important for successfully implementing teleophthalmology programs in urban, as well as rural, areas of need where similar screening challenges exist. Dr. Liu's team has begun partnering with Outreach Community Health Centers, a federally-qualified health center in Milwaukee serving a low-income, predominantly Black patient population, to culturally adapt the I-SITE program for urban communities of color.
For now, Liu is excited about the knowledge we hope to gain from the I-TRUST Study and looks forward to being able to help more patients save their vision.
"It's very rewarding to be able to share what we learn with health systems and researchers to expand access to eye care locally, nationally, and worldwide," she said. "Here at UW-Madison, we have an over 50-year history of being international leaders in diabetic eye disease, from screening to imaging to treatment. With the I-TRUST Study, we're building on our unique tradition and expertise to further benefit our communities around the world. It's really a great example of the Wisconsin Idea in action."