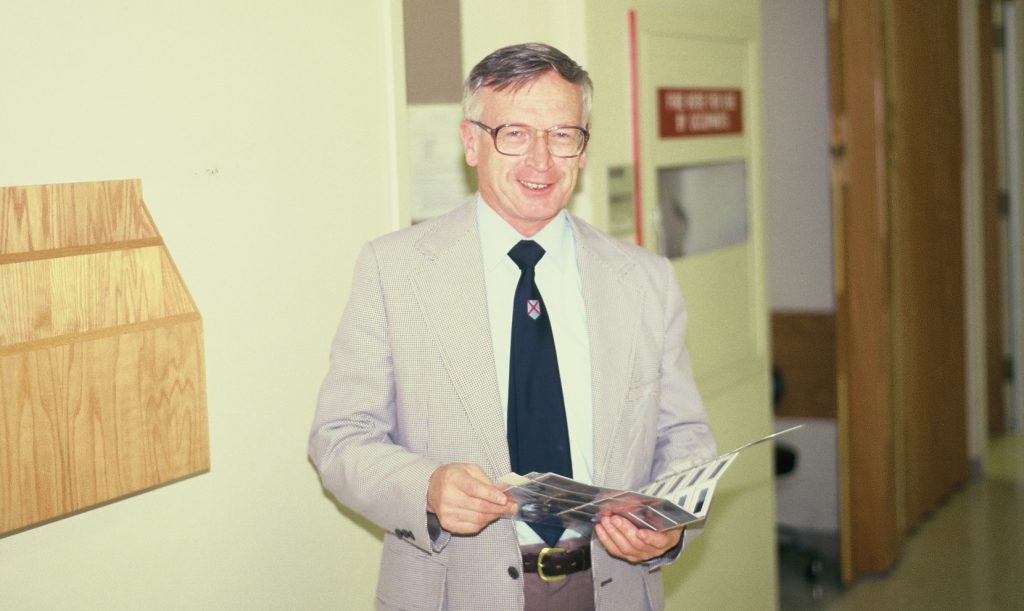 Remembering Dr. Clare Hutson
News // Jan 19 2022
The UW Department of Ophthalmology and Visual Sciences is saddened to announce the passing of our friend and longtime colleague, Clare F. Hutson, MD, on January 10, 2022.
He was 95 years old.
A Badger through and through, Dr. Hutson (pictured above in 1987) completed his undergraduate education at UW in 1953 and received his MD in 1956. He later completed an ophthalmology residency here in 1962 and would study alongside retina specialist and first-ever DOVS department chair Matthew "Dinny" Davis, MD.
Hutson would go on to practice ophthalmology at the Davis-Duehr eye clinic for three decades, specializing in retinal care, but also held a faculty appointment with DOVS during that time. He rose to the role of clinical associate professor of vitreoretinal disease in 1979 and served in that role until his retirement from the department in 1996. Throughout the years, he remained active in various DOVS alumni activities and continued to support the department well into retirement.
On both a professional level and a personal level, it's clear that Hutson made an impact on those around him.
"Clare was really a great guy and an excellent retinal surgeon," said Hutson's longtime friend and DOVS colleague Frank Myers, MD. "Not only was he a prolific surgeon – he probably did more buckles than anyone on the faculty in the 70s & 80s – but he was also a farmer. He grew up on a farm near Kendall, Wisconsin, and later managed the farm after his parents died. Although he rented out the land to nearby farmers, he did a lot of the maintenance work on the property himself."
Myers – now a professor emeritus with the department – adds: "Clare was also a great 'talker' and loved regaling listeners with experiences from his overseas travels. He became fast friends with many residents. He also had a cabin near Big Sky ski area in Montana and did a lot of downhill skiing there as well as in Wisconsin."
You can read Dr. Hutson's full obituary here.
The UW Department of Ophthalmology and Visual Sciences offers its deepest condolences to Dr. Hutson's family.
(A special thank you to daughter Anne Sommers, as well as Frank Myers and Kristin Larson, in gathering the information for this story)