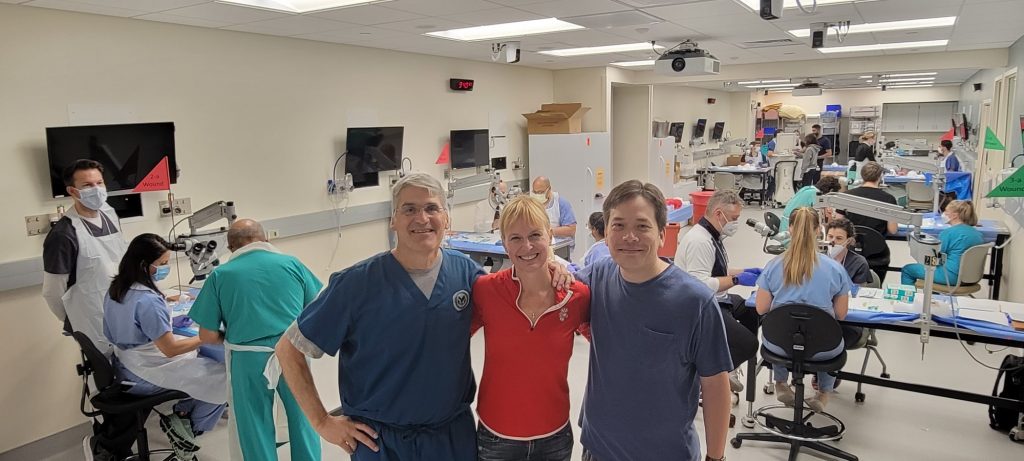 Department Hosts 2022 Multiphasic Phaco Course
Education News // News // Phaco // Resident Highlights // Aug 26 2022
53 residents and medical students from 10 institutions receive training in modern cataract removal techniques at DOVS' 2022 Phacoemulsification Course.
For more than two decades, medical and veterinary ophthalmology residents, UW and visiting medical students, and pre-residency fellows from around the country have come to the UW Department of Ophthalmology and Visual Sciences to learn cataract surgical techniques. At what may be the longest consistently running Phacoemulsification (Phaco) course in the country, attendees learn about all aspects of the procedure in a three-year, progressive course that includes both lectures and wet lab practice.
"Our two-day Phaco course is unique because we have three different, level appropriate sessions, covering the needs of beginning students and those at a more advanced level," said course co-director Daniel Knoch, MD. "Ophthalmology students learn about cataract surgery in the regular rotations during each year of their residency. The course gives provides one-on-one experience that gives our learners a jump-start on the upcoming year's training."
Cataracts are the most common cause of vision loss in people over age 40 in the United States and is the principal cause of blindness in the world. Phacoemulsification is the method most commonly used to remove a cataract from a patient's eye. The term refers to the removal of a cataract by first liquefying the affected lens with ultrasonic vibrations using a Phaco machine and then extracting it by suction.
Phaco is hosted jointly by DOVS, the University of Iowa, the Medical College of Wisconsin, and the UW School of Veterinary Medicine. Phaco Course Directors Andrew Thliveris, MD, PhD, Sarah Nehls, MD, and Daniel Knoch, MD, planned and facilitated the training with 23 faculty from 3 academic institutions and 2 private practices assisting. Educational grants were provided by Alcon, Johnson and Johnson, and Zeiss, along with financial contributions from Glaukos, New World Medical, and Heine.
Pictured above: Phaco Course Directors Andrew Thliveris, MD, PhD, Sarah Nehls, MD, and Daniel Knoch, MD. (Photo © Andy Manis)