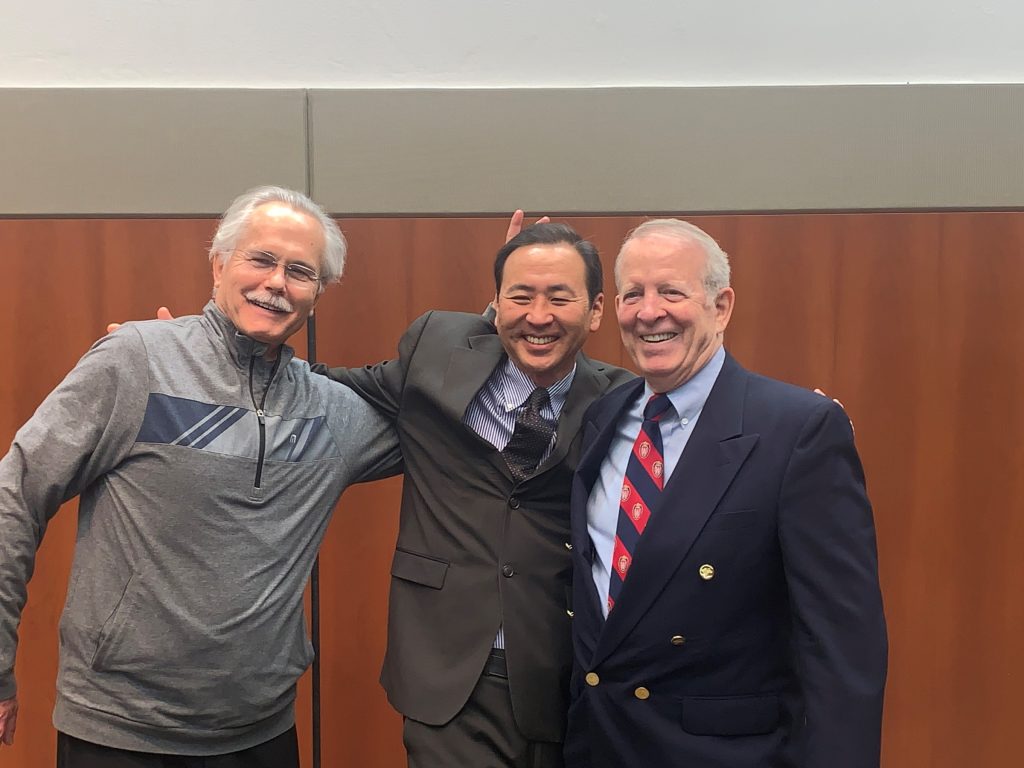 Kikkawa honored as 2022 Distinguished Alumni
Alumni News // Events // Fellows // Oculoplastics // White Coat Society // Sep 21 2022
Don O. Kikkawa, MD, FACS is the recipient of the 2022 UW-Madison Ophthalmology Alumni Association's Distinguished Alumni Award.
Kikkawa, who completed his fellowship in oculoplastics at UW-Madison in 1992, said he was drawn to the Department of Ophthalmology and Visual Science fellowship program for its stature as the top program of its kind. He feels fortunate he was selected for the fellowship by Drs. Richard Dortzbach and Brad Lemke. "Dortz had a reputation for being an outstanding teacher," Kikkawa said, "putting fellows as his number one priority."
Oculoplastics was a field Kikkawa knew little about when he started in ophthalmology. "I really got attracted to it by being on call and seeing trauma patients," he said. "The reconstructive aspect drew me in." He said the individual treatment of patients and the fact that there "wasn't any one way to doing a reconstruction" were also appealing, along with the opportunity to "operate on other parts of the body to get grafts and tissue needed for reconstruction. To me that was just really fascinating."
Kikkawa says his most notable professional accomplishment is being able to teach fellows and to contribute to the field by training new leaders who go on to teach. He's the director of the oculofacial plastic surgery fellowship program at the University of California-San Diego Shiley Eye Institute.
I'm not so convinced that anything we discover or describe is going to stand the test of time. There may be some brief period where we do things better than before but someone else will come along and do it better than we do. When I train fellows, I tell them that if you're doing the same things five years from now the way I taught you, then I didn't do a good job of teaching you.
His memories of Madison center around aspects of UW-Madison that are so familiar.
"I grew up in Pasadena which is kind of landlocked. I had never spent that much time near water," Kikkawa said. He also never had the big college experience and counts the football games and the college atmosphere at the Madison campus among his great memories.
In their nomination letter, DOVS faculty members and alumni Drs. Mark Lucarelli, Cat Burkat and Suzanne van Landingham shared a brief history of Kikkawa, from his service with the Shiley Eye Institute – Kikkawa jokes that with the exception of a brief stint in Saudi Arabia after his fellowship, he's only worked in one place – to the impact his fellowship thesis, Relations of the superficial musculoaponeurotic system to the orbit and characterization of the orbitomalar ligament, continues to have today. He's held leadership roles with the American Society of Ophthalmic Plastic and Reconstructive Surgery (ASOPRS) and the ASPORS Foundation; the American Board of Ophthalmology and the American Academy of Ophthalmology Oculofacial Subspecialty Day.
Kikkawa will receive his award during the Alumni + Friends reception, from 5:30 – 8 p.m. on October 1 at Porter Kitchen and Deck during the American Academy of Ophthalmology's annual meeting in Chicago. For more information and to register by September 22, visit the events page.