Department's First Cornea Fellow Treats More Than Just Eyes
Alumni News // Featured News // Fellows // Jun 19 2023
For Edith Navarro, MD, a 1995 graduate – and the department's first – of the UW's ophthalmology cornea fellowship program, providing care for those in need is about much more than just their eyes. As medical director of the Tzu Chi Eye Center in Santa Mesa, Philippines, Navarro believes good eye care treats the whole person in a compassionate, culturally sensitive way.
"Ophthalmology is not just surgery," Navarro said. "You have to be kind to your patients. There are things we cannot heal for them. We must encourage them to find love and forgiveness in the rest of their lives so they can overcome their difficulties."
After completing medical school, an internship, and a residency at the University of Santo Tomas in Manilla, Philippines, Navarro continued her training in ophthalmology at the University of Wisconsin-Madison, an institution that's had a long history with providing eye care services in the Philippines.
In 1979, Guillermo de Venecia, MD, the department's  first subspecialty-trained, full-time clinician, and his wife, nurse Marta de Venecia, established the Free Rural Eye Clinic (FREC) in the Philippines to provide cataract surgery and other ophthalmologic care to patients who otherwise wouldn't be able to afford care. Since then, dozens of UW ophthalmologists, medical students, residents, and clinical fellows have traveled to FREC (now the present-day Tzu Chi Eye Center) to provide free care for patients.
De Venecia encouraged Navarro to become the UW's first cornea fellow, under Drs. Frederick Brightbill and Neal Barney. Navarro extended her stay for three months after graduation to learn about eye banking, which she wanted to implement in her home country. "It is useless to be a cornea specialist if you don't have an eye bank," she said.
She did just that. Navarro helped establish an eye bank in the Philippines and continues to work with the Eye Bank Foundation of the Philippines. She aims to increase voluntary donations, which can be sensitive due to cultural beliefs. "In the Philippines, we have to convince people that when you donate your corneas it's not disfiguring," she said. "You will still be beautiful."
Navarro currently serves as the medical director at the Tzu Chi Eye Center in Santa Mesa, Philippines, which continues to provide free eye care and procedures to those who need it. In the Philippines, Navarro says, nearly 2% of the population – almost 2.2 million people – have cataracts, and 250,000 have cornea blindness.
The Tzu Chi Eye Center is an impressive facility with four advanced operating rooms and a team of highly skilled ophthalmologists from various sub-specialties. It's much more than that, however, as its name – Tzu meaning "compassion" and Chi meaning "relief"- indicates.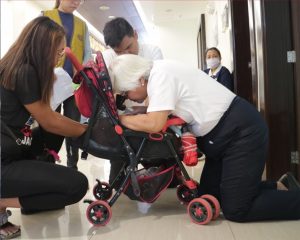 "The goal is to maintain the dignity of the recipient," Navarro said, "to think about what little bit of good you can do – and turn that into the standard of care. It's not about how many patients you see – but that they are thankful. And you should be thankful for having the opportunity to help them.  When you help someone, you feel good. And then, when you feel good, the question becomes – who helped who?"
For the last 14 years, the center has provided free services, funded by donations from the community and the patients themselves. Patients often arrive at the clinic by 3 a.m. and wait in a makeshift outdoor waiting room. As they wait, they receive meals, and become volunteers, serving food to each other.
"You have to build relationships and earn their trust," Navarro said. "It's not only about being a doctor, when you see how simple their needs are. If you bring them something to eat after a surgery, for example, the smiles you receive are priceless."
After surgery, the clinic helps patients find clean, safe temporary housing. "As an ophthalmologist, it is noble to want to lessen the burden of those who cannot see clearly," she said. "But what good are eyes if there is turmoil in the heart? The joy of helping someone is the payment you receive, and you cannot buy that with money."