Age-related macular degeneration (amd) affects over 10 million Americans – more than cataracts and glaucoma combined.
Thank you for coming to the 2018 Macular Degeneration Symposium, an informative program to learn about the latest treatments, tools and discoveries for age-related macular degeneration from University of Wisconsin ophthalmologists and researchers, and experts from the Wisconsin Council of the Blind & Visually Impaired.
---
Coming in from out of town? Clarion Suites at Alliant Energy Center – Onsite Hotel 
We have set aside a block of rooms at a special event rate with group ID: UW AMD Symposium.
The Clarion Suites at Alliant Energy Center is an award-winning, all-suite hotel with 140 guest rooms. The hotel is directly connected to Exhibition Hall at Alliant Energy Center by a climate-controlled walkway. Hotel amenities include a full breakfast buffet, evening social hour and airport shuttle. The Clarion also features an indoor pool/whirlpool, 24-hour business center and wireless internet. Group rates are available for Alliant Energy Center events.
Address:
2110 Rimrock Rd.
Madison, WI 52713
Phone: 608-284-1234
Toll Free: 800-4CHOICE (800-424-6423)
---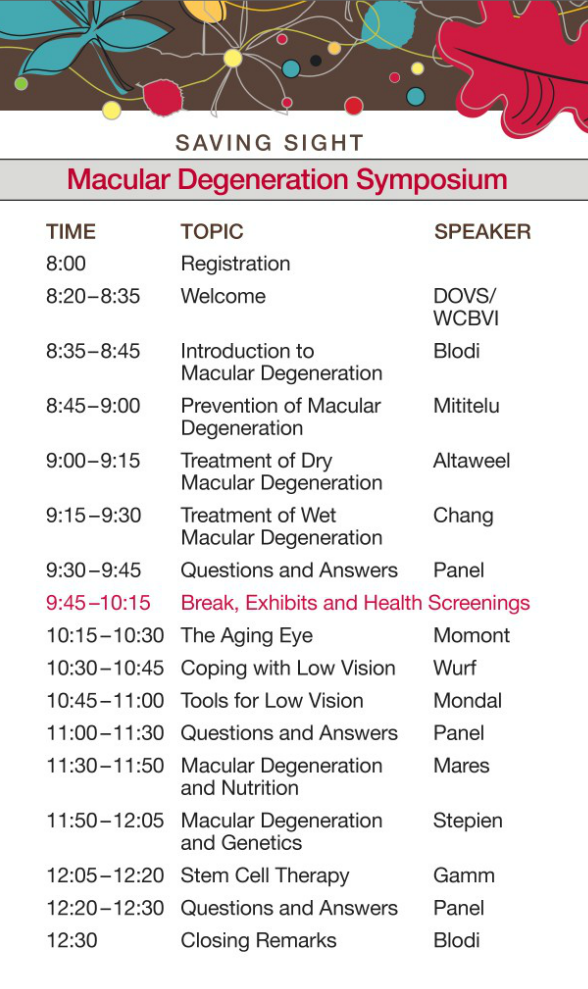 Sponsored By:
Clear Vision Midwest
Event Vendors:
AARP Wisconsin chapter
aging and disability resource center of dane county
center for deaf-blind persons, inc.
e.m. vitu, inc.
hear wisconsin
mcpherson eye research institute, uw-madison
mg&e foundation
oakwood village
occupaws guide dog association
orcam
sail – support active independent lives
vision forward
wisconsin talking book and braille library (wtbbl)
Free and open to the public, this community-centric event is modeled after the UW-Madison School of Medicine and Public Health's "Mini-Med School" programs.
Our spring 2018 Saving Sight Session will feature leading age-related macular degeneration (AMD) research from Dr. Barbara Blodi, Professor and Director of the UW-Madison Department of Ophthalmology and Visual Sciences Clinical Trials Unit and Fundus Photograph Reading Center. Please join us for this exciting discussion and light dinner.
The ABC's of AGE-RELATED MACULAR DEGENERATION
THURSDAY, APRIL 5, 2018
‭ 5:30 pm   Registration and Light Dinner
‭ 6–7 pm     Lecture and Discussion‭
Please REGISTER BY March 30, 2018.
ABOUT DR. BLODI'S RESEARCH:
Dr. Blodi's clinical practice and research focus on macular degeneration, diabetic retinopathy and other retinal diseases. She leads an ongoing age-related eye disease study that looks into the effects of supplements ‭in the treatment of macular degeneration, among other studies. Dr. Blodi's ‭research has given us a better understanding of macular degeneration and ‭helped develop different treatment options for retinal diseases. This has ‭saved sight for people affected by these blinding diseases.
Saving sight is the most important part of our mission. The Department of Ophthalmology ‭and Visual Sciences at the UW School of Medicine and Public Health is devoted to preserving and protecting vision. This program ‭is one more way to keep you informed. ‭The Saving Sight Sessions are a series of ‭community education programs created to share discoveries and developments to stop ‭blinding diseases, enhance treatment and ‭improve vision-related quality of life. ‭Please join us as we share the ways we are ‭transforming eye care.
Presented by the UW Department of Ophthalmology and Visual Sciences
Keynote Speaker: Abbot clark, phd, farvo, NORTH TEXAS EYE RESEARCH INSTITUTE
"Discovery of new glaucoma molecular pathogenic pathways and novel therapeutic approaches"
Featured Speakers:
Markus Kuehn, PhD, Glaucoma Cell Biology Laboratory, University of Iowa – Carver College of Medicine
Ross Collery, PhD, Department of Ophthalmology and Visual Sciences Eye Institute, Medical College of Wisconsin
Daniel Lipinski, MSc, PhD, Department of Ophthalmology and Visual Sciences Eye Institute, Medical College of Wisconsin
 ABOUT DR. CLARK'S RESEARCH:
Dr. Clark's laboratory studies the cell and molecular mechanisms responsible for a variety of eye diseases, especially glaucoma. Glaucoma is a leading cause of irreversible vision loss and blindness in the world. Dr. Clark's lab has discovered a number of new disease pathways involved in glaucomatous elevation of intraocular pressure. His lab also has identified novel neuroprotective therapies to protect specific retinal neurons, retinal ganglion cells, that are damaged in glaucoma, and also protect the optic nerve and visual centers in the brain. Abe currently mentors 9 graduate students and serves on the editorial board of 4 scientific journals. He has published over 190 peer-reviewed manuscripts and has been invited to present his scientific work at over 110 national and international scientific meetings.
---
OFFICIAL PROGRAM SCHEDULE:
8:00 – 8:20 AM   Breakfast
8:20 – 8:30 AM   Chair's Welcome: Terri Young, MD, MBA
Session I   Retinal and RPE Pathologies // Moderator: Curtis Brandt, PhD, FARVO
8:30 – 8:50 AM Ross F. Collery, PhD, Medical College of Wisconsin Eye Institute // Assessing the Roles of Interphotoreceptor Retinoid-Binding Protein (IRBP) and IRBP-like Proteins in the Zebrafish Eye
8:50 – 9:10 AM Gillian Shaw, DVM, DACVP, PhD // Ocular Manifestations of Hyperviscosity Syndrome in Dogs
9:10 – 9:30 AM Amitha Domalpally, MD // Atrophy in Neovascular Age-Related Macular Degeneration
9:30 – 9:50 AM Heather Schmitt, MS (PhD expected in Spring '18) // Overexpression of Histone Deacetylase-3 (HDAC3) Induces Apoptosis in Differentiated Retinal Neurons
9:50 – 10.05 AM Krista Christensen, MPH, PhD // Macular Pigment and Vision Function Among Older Women in the 2nd Carotenoids in Age-Related Eye Disease Study (CAREDS2), Ancillary Study of the Women's Health Initiative
10:05 – 10:25 AM   Break
Session II  Clinical and Translational Advancements // Moderator: Anna Momont, MD
10:25 – 10:45 AM

 

Daniel Lipinski, MSc, DPhil, Medical College of Wisconsin Eye Institute // Development of an Inducible Anti-VEGF Gene Therapy for Age-Related Macular Degeneration
10:45 – 11:05 AM  Pawan Shahi, PhD // Gene Therapy Alleviates KCNJ13 Defect Toward Curing Blindness
11:05 – 11:25 AM

 

Nader Sheibani, PhD // Vitamin D Inhibits Angiogenesis By Promoting Vessel Maturation
11:25 – 11:45 AM Ellie Corkery // Correlation of Optical Coherence Tomography Angiography Vascular Density to Color ETDRS Severity Level in Eyes with Diabetic Retinopathy
11:45 – 12:00 PM Divya Sinha, PhD // Gene Augmentation in Best Vitelliform Macular Dystrophy
12:00 PM – 1:00 PM   Lunch by Good Food Company, Rooms 1220-21
Session III   Glaucoma and Optic Nerve // Moderator: T. Michael Nork, MD
1:00 – 1:20 PM Markus Kuehn, PhD, University of Iowa, Center for the Prevention and Treatment of Visual Loss, Iowa City Veterans Affairs Medical Center // Cellular Strategies for Functional Regeneration of the Trabecular Meshwork
1:20 – 1:40 PM Stuart Tompson, PhD // The TEK-ANGPT Pathway in Primary Congenital Glaucoma
1:40 – 2:00 PM Robert Nickells, PhD // Kinetics of BAX Recruitment in RGCs After Optic Nerve Damage
2:00 – 2:20 PM Gillian McLellan, BVMS, PhD, DECVP, DACVO // Distal Aqueous Outflow Pathways in a Spontaneous Model of Primary Congenital Glaucoma (PCG)
2:20 – 2:35 PM

 

Paul Kaufman, MD // Why Can't We Transfect/Transduce the TM in Live Monkeys with Transgenes that Affect Cellular Contractility and the Cytoskeleton, When We Can Do So in Monkey Organ-Cultured Anterior Segments, and We Can Do So with GFP in Live Monkeys Using Either FIV or scAAV Vectors?
2:35 – 2:45 PM Break
2:45 – 3:45 PM   Kambara Lecturer: Abbot Clark, PhD, FARVO // Discovery of New Glaucoma Molecular Pathogenic Pathways and Novel Therapeutic Approaches
3:45 – 4:00 PM   Closing Remarks: Terri Young, MD, MBA
Symposium Supported by the George Kambara Education Fund and McPherson Eye Research Institute.