age-related macular degeneration
This year's virtual event, co-sponsored by the Wisconsin Council of the Blind & Visually Impaired (WCBVI) and University of Wisconsin Department of Ophthalmology and Visual Sciences (DOVS), will feature research updates, panel discussions, and resources. This event is free and open to the public, please register below to be sent the live event information. Please note that a computer/mobile device and internet access are required to access the program. You may dial in from a phone for audio only.
Registration has closed for this event. Please see the information below for instructions on how to access the symposium.
To access the event, click this link:
https://uwmadison.zoom.us/j/98374272183
You should be prompted to enter the Passcode and/or Meeting ID:
Meeting ID: 983 7427 2183
Passcode: 462586
If you need to access the event by phone (audio only), call:
Phone Number: 312-626-6799
Meeting ID: 983 7427 2183
Passcode: 462586
PROGRAM OUTLINE:
4:00-4:15 PM – Welcome + AMD 101
Denise Jess, executive director, WCBVI
Barbara Blodi, MD, Matthew D. Davis Professor and medical director of the Wisconsin Reading Center
4:15-5:00 – Panel Discussion + Questions: Low Vision Resources and You
Panelists:
Jean Kalscheur, vision rehabilitation teacher, WCBVI
Brent Perzentka, certified low vision therapist, WCBVI
Amy Wurf, certified low vision therapist, education and vision services director, WCBVI
5:00-5:05 – Break
5:05-5:50 – Panel Discussion + Questions: AMD Research and Treatment Updates
Moderator:
Mihai Mititleu, MD, associate professor, medical director of the Clinical Eye Research Unit, DOVS
Panelists:
Jonathan Chang, MD, assistant professor, DOVS
Roomasa Channa, MD, assistant professor, DOVS
Kathleen Schildroth, MD, assistant professor, DOVS
Kimberly Stepien, MD, professor, co-vice chair of clinical affairs, director of the inherited retinal degenerations clinic, co-director of the ocular genetics program, DOVS
5:50-6:00 – Event Conclusion
Welcome, Campers!
You are invited to the first-ever Spirit of Aging Camp at Union South on the University of Wisconsin-Madison campus. At this FREE event, health and wellness experts, community members and industry professionals will share strategies and resources for aging in a healthy and happy way. Hear from one community member who designed her home to be a safe place as she ages. Learn new and easy exercises and stretches that fit your lifestyle. Discover healthful foods that UW researchers recommend for aging brains and eyes. This energizing and interactive day at camp will provide you with the tools to help you feel empowered to thrive as you age.
SCHEDULE OF EVENTS
8:30 am Registration and Crafts
9:05 am Camp Welcome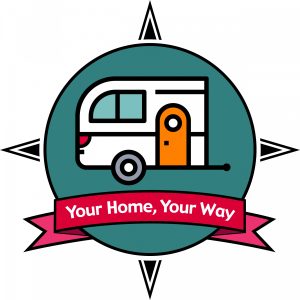 9:15 am Your Home, Your Way
Think about your home. Now, think about how small changes to your living space could help you age within your current home. This panel discussion will feature experts in interior design, neurology, low vision, falls and more. You'll leave with new ideas about how your house can become your forever home.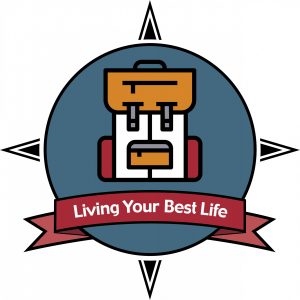 10:00 am Living Your Best Life
Have you noticed that you need reader glasses at restaurants? Do you feel unsteady behind the wheel? Our panel of healthcare providers will offer insight on how to cope with aging, when to seek medical help and preventative tips and tricks to keep you feeling confident year after year.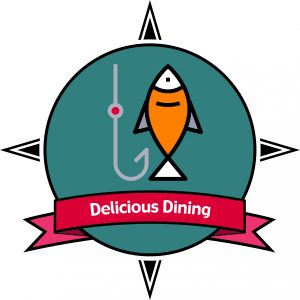 11:30 am Delicious Dining
Everyone knows kale is all the rage, but did you know it can actually taste good while delivering super-food value? This nutrition-focused panel and cooking demonstration will provide you with the guidance you need to make tasty dishes at home, get amazing health benefits from foods and even wow your friends and family.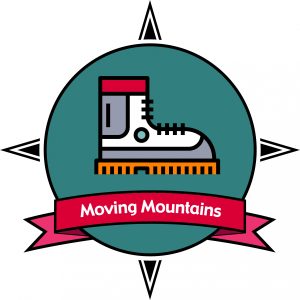 1:00 pm Moving Mountains
Get moving, literally, with this wellness-focused panel and demonstration. Expert yoga teachers, swim instructors and healthcare providers will share guided movement practices for all activity levels during this interactive session.
2:00 pm Camp Concludes
PRESENTERS
University of Wisconsin School of Medicine and Public Health Division of Geriatrics and Gerontology
University of Wisconsin School of Medicine and Public Health Department of Ophthalmology and Visual Sciences
UW Health
Community Experts
Maxine Palmer, Community Member
Parking
Parking is available for a fee in the following lots near Union South. You may also use the Drop-Off area on the Dayton side of Union South
Lot 80 – Union South Parking Garage
Lot 17 – Engineering Drive Ramp
Lot 20 – University Avenue Ramp
Thank you to our generous community sponsors and partners:
Dirigible Studio – Glamping Level Sponsors (Camp Counselor attire)
Oakwood Village – RV-ing Level Sponsors
I.d. Delafield – RV-ing Level Sponsors
Bella Domicile – RV-ing Level Sponsors
Metcalfe's and Whole Foods Markets, The Princeton Club, Culver's, SAIL, RSVP of Dane County, Adaptive Technology Resources – Roughing-It Level Sponsors
This event is presented by: The UW Division of Geriatrics and Gerontology, Department of Ophthalmology and Visual Sciences and UW Health
Join us in welcoming John D. Shepherd, MD, Director of the Weigel Williamson Center in Omaha, Nebraska, as he presents:
"Recognizing and Addressing Depression in the Low Vision Patient"
Register for one of the two 20-minute presentations on Friday, May 31 by completing the form below by May 20th.
ABOUT THE CENTER:
The Weigel Williamson Center celebrated 10 years of service in 2018 and has served over 5,000 patients at the only low vision house situated on an academic medical center campus. It has grown from one doctor and one occupational therapist at a single location to multiple providers at multiple locations in the region.
Presented by the UW Department of Ophthalmology and Visual Sciences
Keynote Speaker: MOnica Vetter, PhD – UNiversity of Utah – Chair of the Department of neurobiology and Anatomy
Dr. Vetter's laboratory is focused on understanding the molecular pathways controlling neural development and degeneration in the retina. The retina is of critical importance since disorders of eye development can lead to congenital blindness, while degeneration of retinal neurons can cause progressive blindness at later ages.
Featured Speakers:
Michael G. Anderson, PhD, Professor of Molecular Physiology and Biophysics; Ophthalmology and Visual Sciences within the Carver College of Medicine at the University of Iowa
Amy Lee, PhD, Professor of Molecular Physiology and Biophysics, Otolaryngology Head-Neck Surgery, and Neurology Assistant Dean for Research within the Carver College of Medicine at the University of Iowa
Katie M. Litts, PhD, Postdoctoral Fellow within the Advanced Ocular Imaging Program at the Medical College of Wisconsin Eye Institute
---
REGISTER HERE BY APRIL 5, 2019
---
OFFICIAL PROGRAM SCHEDULE:
8:00 – 8:20 AM   Breakfast and Registration 
8:20 – 8:30 AM   Chair's Welcome: Terri Young, MD, MBA
Session I   Retina and the Visual Pathway // Moderator: Justin Gottlieb, MD
8:30 – 8:50 AM Amy Lee, PhD // Cav1.4 Ca2+ Channels at the Photoreceptor Synapse
8:50 – 9:10 AM Raunak Sinha, PhD // Diversity of Photoreceptor Signaling in Primate Retina
9:10 – 9:30 AM Karen Schloss, PhD // The Role of Visual Reasoning in Visual Communication 
9:30 – 9:50 AM Mrinalini Hoon, PhD // Development of Retinal Presynaptic Inhibitory Circuits 
9:50 – 10.10 AM Krista Christensen, MPH, PhD // Macular Pigment and Low Luminance Vision in CAREDS
10:10 – 10:25 AM   Break
Session II  Glaucoma // Moderator: Gregg Heatley, MD, MMM
10:25 – 10:45 AM

 

Michael Anderson, PhD // Using Quantitative Image Analysis to Empower Mouse studies of Glaucoma and Retinal Ganglion Cell Biology
10:45 – 11:05 AM  Donna Peters, PhD // αVb3 Integrin Signaling Controls Intraocular Pressure
11:05 – 11:25 AM

 

Colleen McDowell, PhD // TLR4 Signaling in The Human Trabecular Meshwork
11:25 – 11:45 AM Gillian McLellan, BVMS, PhD, DACVO // Glaucomatous Optic Nerve Neuro-Inflammation and Degeneration
11:45 – 12:00 PM Sri Meghana Konda, MBBS // Schlemm's Canal Imaging, Pressure and Catheterization
12:00 PM – 1:00 PM   Buffet Lunch 
Session III  Ocular Pathologies // Moderator: Evan Warner, MD
1:00 – 1:20 PM Katie Litts, PhD // Application of AOSLO Retinal Imaging in Achromatopsia 
1:20 – 1:35 PM Kara Vogel, PhD // Vigabatrin: Synaptic Remodeling of Retinal Bipolar Cells
1:35 – 1:50 PM Barbara Blodi, MD // Ellipsoid Zone Status and Its Association with Visual Acuity in Eyes with Macular Edema in SCORE 2
1:50 – 2:10 PM Donna Neumann, PhD // The Link Between Ocular HSV-1 Recurrence and Chromatin Loops
2:10 – 2:30 PM

 

Curtis Brandt, PhD // In Vitro Susceptibility of FHV-1 Field Strains to Ganciclovir
2:30 – 2:50 PM Break
2:50 – 3:50 PM   Keynote Speaker: Monica Vetter, PhD // Microglia: Dynamic Remodelers of the Developing Retina
3:50 – 4:00 PM   Closing Remarks: Terri Young, MD, MBA
This slideshow requires JavaScript.
The 2019 Vision Research Symposium is supported by the Department of Ophthalmology and Visual Sciences
George Kambara Education Fund and McPherson Eye Research Institute.
Age-related macular degeneration (amd) affects over 10 million Americans – more than cataracts and glaucoma combined.
Thank you for coming to the 2018 Macular Degeneration Symposium, an informative program to learn about the latest treatments, tools and discoveries for age-related macular degeneration from University of Wisconsin ophthalmologists and researchers, and experts from the Wisconsin Council of the Blind & Visually Impaired.
---
Coming in from out of town? Clarion Suites at Alliant Energy Center – Onsite Hotel 
We have set aside a block of rooms at a special event rate with group ID: UW AMD Symposium.
The Clarion Suites at Alliant Energy Center is an award-winning, all-suite hotel with 140 guest rooms. The hotel is directly connected to Exhibition Hall at Alliant Energy Center by a climate-controlled walkway. Hotel amenities include a full breakfast buffet, evening social hour and airport shuttle. The Clarion also features an indoor pool/whirlpool, 24-hour business center and wireless internet. Group rates are available for Alliant Energy Center events.
Address:
2110 Rimrock Rd.
Madison, WI 52713
Phone: 608-284-1234
Toll Free: 800-4CHOICE (800-424-6423)
---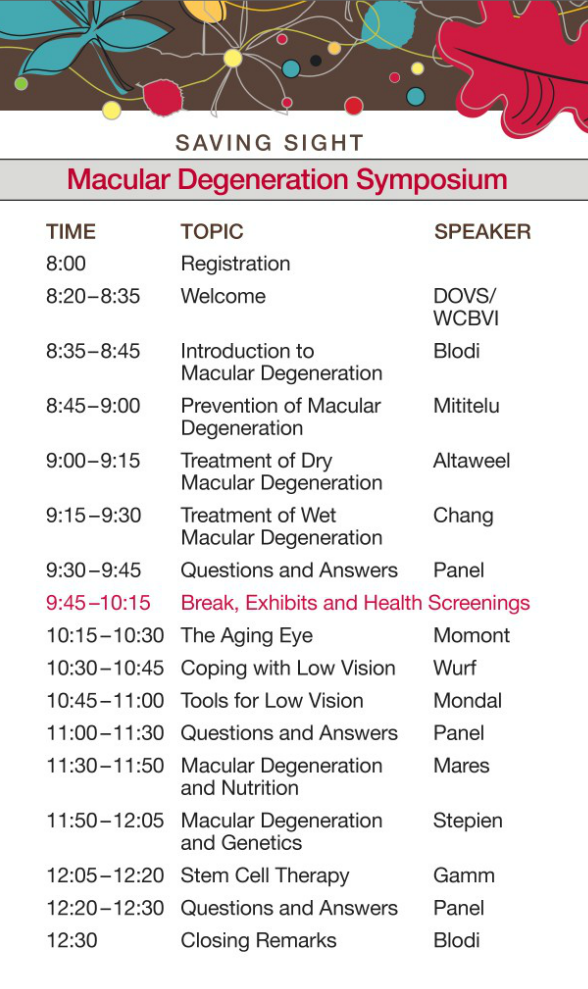 Sponsored By:
Clear Vision Midwest
Event Vendors:
AARP Wisconsin chapter
aging and disability resource center of dane county
center for deaf-blind persons, inc.
e.m. vitu, inc.
hear wisconsin
mcpherson eye research institute, uw-madison
mg&e foundation
oakwood village
occupaws guide dog association
orcam
sail – support active independent lives
vision forward
wisconsin talking book and braille library (wtbbl)
Free and open to the public, this community-centric event is modeled after the UW-Madison School of Medicine and Public Health's "Mini-Med School" programs.
Our spring 2018 Saving Sight Session will feature leading age-related macular degeneration (AMD) research from Dr. Barbara Blodi, Professor and Director of the UW-Madison Department of Ophthalmology and Visual Sciences Clinical Trials Unit and Fundus Photograph Reading Center. Please join us for this exciting discussion and light dinner.
The ABC's of AGE-RELATED MACULAR DEGENERATION
THURSDAY, APRIL 5, 2018
‭ 5:30 pm   Registration and Light Dinner
‭ 6–7 pm     Lecture and Discussion‭
Please REGISTER BY March 30, 2018.
ABOUT DR. BLODI'S RESEARCH:
Dr. Blodi's clinical practice and research focus on macular degeneration, diabetic retinopathy and other retinal diseases. She leads an ongoing age-related eye disease study that looks into the effects of supplements ‭in the treatment of macular degeneration, among other studies. Dr. Blodi's ‭research has given us a better understanding of macular degeneration and ‭helped develop different treatment options for retinal diseases. This has ‭saved sight for people affected by these blinding diseases.
Saving sight is the most important part of our mission. The Department of Ophthalmology ‭and Visual Sciences at the UW School of Medicine and Public Health is devoted to preserving and protecting vision. This program ‭is one more way to keep you informed. ‭The Saving Sight Sessions are a series of ‭community education programs created to share discoveries and developments to stop ‭blinding diseases, enhance treatment and ‭improve vision-related quality of life. ‭Please join us as we share the ways we are ‭transforming eye care.