Summer Session: Making Research Accessible
News // Aug 21 2019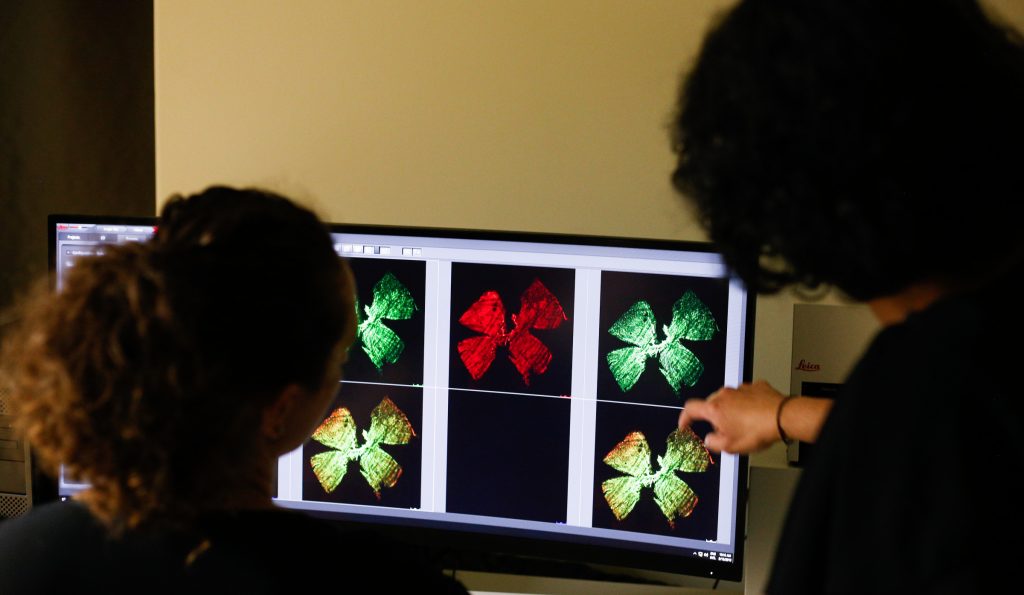 The Department of Ophthalmology and Visual Sciences is dedicated to strong education, leading research and compassionate patient care. The pillar of education is not limited to training residents and fellows in clinical and research areas, however. The department, alongside the greater UW-Madison campus, is committed to creating an environment where all higher education learners have an opportunity to explore the rich world of research. DOVS assists with placing undergraduate, medical and post-graduate students into a variety of roles in our department laboratories. We spoke with a select group of students working in our labs this summer to learn more about what they've been up to in the lab, their career goals and what got them interested in ophthalmology.
The Brandt Lab
Name: Kwame Frimpong
Year/Study area: UW-Madison undergraduate, Biochemistry
Mentor: Dr. Curtis Brandt
Job responsibilities in the lab: Research on the effect of ocular pressure on the UL37x1 Gene
How did you become interested in ophthalmology? I had the opportunity to shadow and ophthalmologist the summer of 2018 and I also interned at a hospital eye clinic, which surrounded me with ophthalmology.
Career goals: Continue to do research in ophthalmology.
Favorite part of your lab work this summer: Finally getting our experiment to work after several months of trying and failing, since I was in the lab during the second semester as well.
Anything else to add about your experience? Lab experience – I feel like I learned a lot during my time in the lab this summer, I became more independent in the lab, and more comfortable performing all kinds of experiments, which drove my desire for research.
The Liu Lab
Name: Madison Kurth
Year/Study area: UW-Madison undergraduate, pre-med. I'm majoring in biology with a certificate in Health and the Humanities, and pursuing honors in the Liberal Arts.
Mentor: Dr. Yao Liu
Job responsibilities in the lab: I've been organizing, scanning, and uploading data from medical records and study visit reports; this data was produced via a previously conducted glaucoma study.
How did you become interested in ophthalmology? Last summer I watched a TED Talk titled "What If We Eliminated One of the World's Oldest Diseases?" This talk, given by Caroline Harper, was about trachoma, an infectious disease in which repeated infections can cause the eyelids to scar; this can cause the eyelids to turn inside out, the eyelashes to scratch the cornea, and can eventually result in vision loss. Improved access to sanitation and clean water can prevent trachoma. Since viewing that TED talk, I have been interested in diseases and conditions which affect the eye.
Career goals: After college I hope to attend medical school and become a doctor. While I am not sure what specialty I'd like to pursue, I am interested in global health and in working with refugee and immigrant communities.
Favorite part of your lab work this summer: Seeing the fundus photos (eye images) and learning about eyes and glaucoma. I've also enjoyed witnessing the kind of work that goes into conducting medical studies and research.
The Sheibani Lab
Name: Andrew Suscha
Year/Study area: UW-Madison undergraduate, Biochemistry & Philosophy Majors with Biocore Certificate
Mentor: Dr. Nader Sheibani
Job responsibilities in the lab: I assist with quantitative and statistical analysis of retinal preparations. I have quantified neovascularization and vascular obliteration in ROP, E/P ratio changes and capillary loss in trypsin digest, apoptosis and proliferation by cell type, and fundus image analysis. I further assist with general lab duties such as PCR and solution preparation.
How did you become interested in ophthalmology? The interplay between neurons and blood vessels that leads to vision fascinated me even before undergrad.  Along with interest in learning about this interplay, I wanted to get involved with research that I had personal connections to. In Dr. Sheibani's lab, I have performed research on diabetic retinopathy and HIE; two diseases which have affected people in my family. I am honored to get to work on projects important to me in a field this fascinating!
Career goals: Physician (specialty TBD) with a public-health centered practice
Favorite part of your lab work this summer: My favorite part of this summer is having the opportunity to work on my own independent project. I was chosen for a summer student fellowship through the Fight For Sight. With the fellowship, I have begun my own project into diabetic retinopathy (DR). My project is investigating the efficacy of fundus imaging at measuring early pericyte loss in DR. Further, I am investigating the therapeutic potential of indole-3-propionic acid, an anti-inflammatory tryptophan metabolite. I have really enjoyed this opportunity to perform my own project, and look forward to continue my experiment in the fall!
Anything else to add about your experience? I am very grateful for the support and guidance I've received from Dr. Sheibani, Dr. Sorenson, and the other researchers in my lab. Since starting in the lab nearly 3 years ago, I have worked closely with all of these individuals. They have always been patient and willing to teach me every step of the way.
My research experience has taught me more than any single undergraduate course, and it is entirely due to the support I've received from those around me. -Andrew Suscha
Fundus Photograph Reading Center (FPRC)
Name: Kevin Vo
Year: 4th year UW medical student
Mentors: Dr. Amitha Domalpally and Dr. Barbara Blodi
Job responsibilities at FPRC: I am a medical student researcher at the FPRC. I am involved in a project with SD-OCT imaging, particularly looking at patients from the AREDS2 trial and certain markers in the OCT that could prognosticate geographic atrophy or choroidal neovascularization. I inspected over 1000 B-scans to identify the markers and then helped compile and analyze the data. I also utilized PhotoShop in order to layer the different scans and imaging to help correlate the OCT imaging to the fundus photographs.
How did you become interested in ophthalmology? I was lucky to have been introduced into ophthalmology during my first year of medical school through a Shapiro summer research opportunity with Dr. Terri Young and her basic science lab in primary congenital glaucoma. It was through that experience that I learned more about the breadth of eye pathology, multitude of procedures offered to help patients, and the dynamics between the physicians and patients which motivated me even more to continue pursuing ophthalmology opportunities in the upcoming years.
What advice would you give to a 1st or 2nd year medical student who is interested in ophthalmology? I would recommend checking out the Ophthalmology Interest Group (OPIG). They have so much to offer in terms of ophthalmology exposure. OPIG holds bimonthly free eye clinics. They coordinate noon talks from ophthalmology faculty. Their Meet the Match informal dinners have also been a good way for me to get to know the seniors who recently matched and get my questions answered. Lastly, because the amount of ophthalmology incorporated into the new curriculum is unfortunately very limited, I would recommend students to reach out to ophthalmology faculty and ask to shadow them in the clinics/OR. It helps to see what goes on in clinic/OR and see ophthalmology is the right fit for them.
Career goals: I have been fortunate to have so many wonderful teachers and mentors in the ophthalmology department! This is why I am interested in pursuing academics to continue with medical student/resident education and paying it forward. I also know that fellowship is something that I would want to pursue as well, although at the moment, everything seems to be alluring to me.  Lastly, my time at the FPRC has inspired me to continue contributing to the scientific literature with research.
Favorite part of your lab work this summer: My favorite part of the lab work this summer is the team meetings . I have enjoyed being a part of the team and updating them with my results and work. I also enjoyed getting to know some of the lab members, asking them for help or feedback, and getting to hear more about their projects in the lab. There are so much great minds and ideas bouncing around in the FPRC, and I really enjoyed being in such close proximity and experiencing all of that.
Anything else to add about your experience? I am very fortunate to have been a part of the FPRC. First off, I didn't realize that there were only a handful of large reading centers like the UW FPRC across the US. Secondly, the amount of scientific research produced from the FPRC is amazing, and it is a privilege to be a contributing member to that community. Lastly, the people at the FPRC were all very welcoming, patient, and eager to teach. I credit my wonderful experience to each and every member I interacted with at the FPRC.
Name: Bohan Xing
Year: 4th year UW medical student
Mentor: Amitha Domalpally
Job responsibilities at FPRC: Drafting research project proposal, optimizing protocol and reading software, and grading images of interest. Eventually I will be summarizing findings in a written manuscript.
How did you become interested in ophthalmology? As I went through my core 3rd year rotations, I realized I very much enjoyed clinic visits, longitudinal patient care, developing technical skills, and most of all being in a visually-diagnostic specialty. I was captured by my first week on Ophthalmology and saw that this field offered everything I was looking for. I love using my eyes to make the diagnosis and I think would be such an honor to be able to help patients the best way I can. I also enjoy the technical skills needed to operate a slit-lamp or indirect scope to even get through a routine visit. Last but not least, I think it is hard to dislike a department in which everybody is so wonderful to be around and eager to teach!
What advice would you give to a 1st or 2nd year medical student who is interested in ophthalmology? Biggest advice would be to start shadowing and research early because you will get variable exposure to the field. You would want to know if clinic is right for you, especially since 80% of the work is clinic. Starting research early will relieve the stress you will inevitably face towards the end of 3rd year when you're scrambling to do something Ophthalmology related. Of course getting introduced to the department and getting involved in volunteer opportunities is also important!
Career goals: I hope to match at a residency program that will provide a broad clinical training and enthusiastic mentors. I want to remain in academics to contribute to education and make an impact with my research.
Favorite part of your lab work this summer: Getting to look at optic nerves all day! Also, finally having free time to relax.
Anything else to add about your experience? The FPRC is a great place to do research. Also, Dr. Blodi and Amitha are awesome!
I'm honored to be a part of an organization that has been so impactful to the field. -Bohan Xing
NOTES FROM THE FPRC RESEARCH DIRECTOR
Amitha Domalpally, MD, PhD, research director of the Fundus Photograph Reading Center (FPRC), also spoke with us and reflected on the ophthalmic imaging research opportunities that are available for UW School of Medicine and Public Health students.
Over the last 5 years, the FPRC has been home to ten medical students interested in ophthalmology research. Some SMPH students start research in their 1styear, as Shapiro students, and continue to evolve their projects over the course of medical school. Others are with the FPRC in the summer of their final year. It generally takes a week for a student to be trained in understanding the retinal pathology, image evaluation and project design. While the project-specific scientific goal itself is important, my goal is to give them exposure to multiple facets of translational research and pass on the art of wholesome research. The students grasp good documentation practices, the etiquettes of data entry, adherence to defined methods and the importance of reproducibility of study data. Students learn to collaborate with FPRC research specialists and understand that research is a team activity. We ask the students to develop a proposal including their project methods and present it to their team for approval before diving into the project work. What has most surprised me is the inherent knack of students at adapting to imaging software. They have a natural talent at utilizing generic platforms such as Photoshop and Image J to develop innovative methods of image analysis.
The FPRC in turn benefits from the projects as SMPH medical students research findings have led to incredible improvements within the organization workflow. Apart from conference abstracts and publications, the research findings have been able to advance state-of-the-art imaging software development which has been deployed in large multicenter clinical trials. A few conference presentations have intrigued new clients and generated industry projects.
Kevin Vo and Bohan Xing are our 2019 FPRC summer students. Kevin had exposure to a small research project as an Ophthalmology Basic Science Course student this Spring and returned to participate in a larger study. He is looking at a novel biomarker called hyperreflective foci in optical coherence tomograms (OCT scans). With under five publications in this area, Kevin was tasked to retrofit a custom software for characterizing these novel biomarkers. His enthusiasm and systematic approach to tackle this challenging task have been very impressive.
Bohan is looking at the role of extramacular drusen in age-related macular degeneration (AMD) and is utilizing the data set from the Age-Related Eye Disease Study 2, a large NIH study with over 5,000 patients. His task included developing evaluation methods for a never explored territory in AMD. There were obstacles along the way which he calmly dealt with, including convincing a commercial software vendor to provide him the tools he needed for the project. Bohan understands and appreciates the translational impact of research such as this in clinical practice and has taken up his work very seriously.