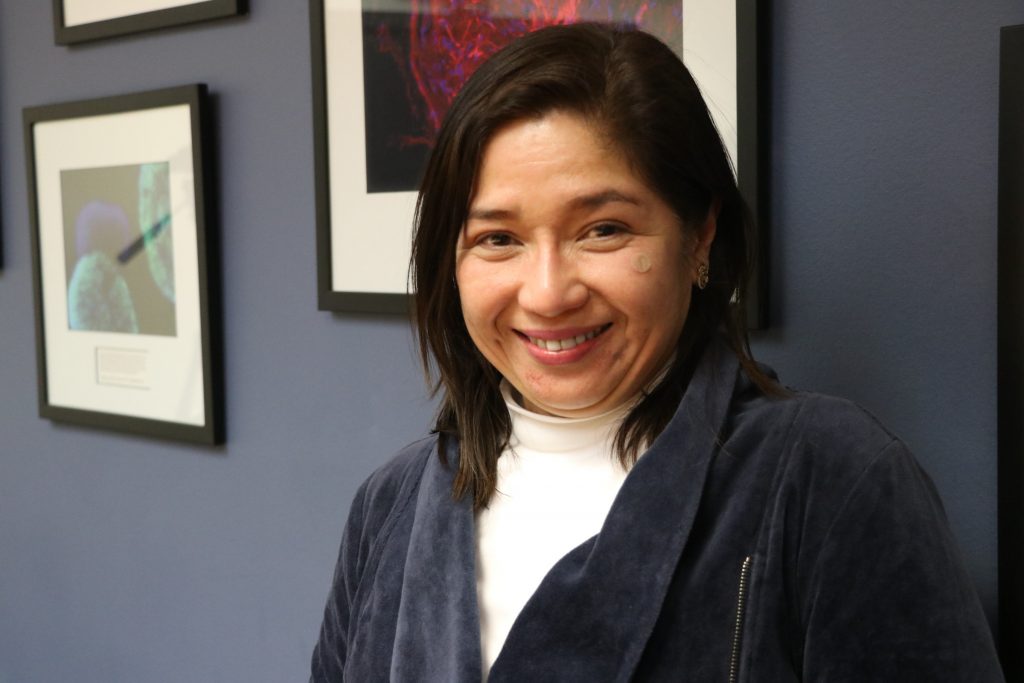 DOVS Fellowship Alum Catherine Macaraig, '94, Brings Hope to Philippines Patients
Alumni News // Global Ophthalmology // News // Apr 06 2022
During the early days of the COVID-19 pandemic – a time when very few people were voluntarily seeking surgical consults – patients from across the Philippines were still lining up to see Catherine Macaraig, MD.
Despite the risk posed by the coronavirus, they came to her seeking care for strabismus: a condition in which the two eyes do not line up in the same direction.
"That really highlighted the urgency of their need," Macaraig said. "Looking 'normal' is really a goal for my patients, because frequently they aren't hired for jobs if they have strabismus. It's a socioeconomic issue."
For Macaraig – a 1994 graduate of the UW DOVS Pediatric Ophthalmology and Adult Strabismus Fellowship Program – providing care for these patients, even during a pandemic, is a responsibility she takes seriously.
A native of Manila, Philippines, Macaraig is now a professor at the University of Santo Tomas (UST) and sees patients of all ages through her private practice at UST Hospital, the Cardinal Santos Medical Center (CSMC), as well as the Tzu Chi Eye Center, which provides free eye care and procedures to those who need it.
"Having the ability to give something back, it's a big thing for me," she said.
After completing her undergraduate education, medical school and a residency at UST, Macaraig decided to continue her training in ophthalmology at the University of Wisconsin, an institution that's had a long history with providing eye care services in the Philippines. In 1979, DOVS faculty member Guillermo de Venecia, MD, and his wife, nurse Marta de Venecia, established the Free Rural Eye Clinic (FREC) in the Philippines to provide cataract surgery and other ophthalmologic care to patients who otherwise wouldn't be able to afford care. Since then, dozens of UW ophthalmologists, medical students, residents and clinical fellows have traveled to FREC to provide free care patients.
In 2018, DOVS established an official partnership with the University of Santo Tomas, the Cardinal Santos Medical Center and Tzu Chi Eye Center, as part of the department's Global Ophthalmology Initiatives (GOI) Program. Shortly thereafter, the partners piloted a one-week resident rotation at UST, sponsored by the Guillermo and Marta de Venecia Fund. Braden Burkhard, MD – a 2020 DOVS residency graduate – was the first learner to participate in this rotation, which included the treatment of patients, performing ophthalmic surgical procedures and conducting critical vision screenings.
Due to the COVID-19 pandemic, this rotation was put on hold, but the global partnership flourished in other ways, including the creation of a new, quarterly Global Resident Cataract Symposium, where UST and UW learners share case studies in a virtual forum. UST and CSMC residents and fellows have also delivered presentations at the DOVS Global Journal Club, as well as the DOVS Learner's Day research conference.
In addition to these global learning activities, partners have presented at each other's virtual conferences and DOVS has seen significant participation by Philippines colleagues in their weekly Grand Rounds.
"Just having this connection has brought us tremendous opportunities for both the ophthalmologists and the medical students of my department," Macaraig said. "And we're looking forward to being able to do more in the future."
That includes resuming the Philippines rotation, as well as piloting a new short-term rotation for a UST learner to come to Wisconsin.
While the pandemic made global travel between the two countries challenging, Macaraig was able to visit Wisconsin in March 2022. She says she looks forward to connecting with future residents and fellows, especially those who are interested in pediatric and adult strabismus care.
Because – as evidenced by the bravery of her patients during the pandemic – it's work that truly makes a difference in the lives of others.
"I love my subspecialty of pediatric ophthalmology because I have the chance to help a child have the best possible vision or look their best so that they can live a fruitful and happy life," she said. "For adult strabismus, we have the opportunity to make such a difference in the lives of those afflicted by strabismus. They develop confidence, become more successful in their jobs and personal relationships, and have a brighter outlook. It is a blessing to be able to make such a difference in each patient's life."