Department Hosts Inaugural Low Vision Rehabilitation Meeting
Featured News // News // Oct 24 2022
In an effort to improve patient care through collaboration, the University of Wisconsin Department of Ophthalmology and Visual Sciences (DOVS) hosted its first-ever Greater Dane County Low Vision Rehabilitation Stakeholder meeting on October 14. The event brought 21 low vision rehabilitation providers from Dane County and the surrounding area to the Goodman community Center in Madison, Wis.  Participants included representatives from the organizations that would most likely assist a patient with the various aspects of their low vision rehabilitation plan, including occupational therapy, low vision therapy, orientation and mobility training, and optometry. This included optometrists, low vision therapists, occupational therapists, vision rehabilitation therapists, rehabilitation specialists, teachers of the visually impaired, and orientation and mobility specialists. Organizations represented included DOVS, Unity Point, Wisconsin Council of the Blind and Visually Impaired, Wisconsin Center for the Blind and Visually Impaired, SSM Dean Medical Group, Veterans Administration, and private practices.
"The purpose of the summit was to provide participants the opportunity to meet other providers in the field who can help contribute to successful patient outcomes," said Sanbrita Mondal, OD, the program's co-creator. "Our goal is to create a strong network of local providers to increase timely and efficient accessibility to care."
The program was supported by the Lighthouse Guild Vision Rehabilitation Network, through funding granted to the department in 2017. Dr. Mondal, who serves as chief of the department's Vision Rehabilitation Services, teamed up with Marshall Flax, MS, COMS from Fork in the Road Vision Rehabilitation Services to organize the event.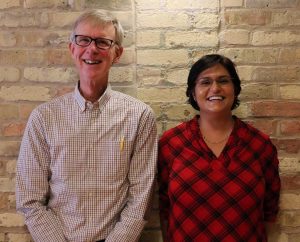 Marshall Flax, MS, COMS and Sanbrita Mondal, OD
"It was time to stop talking about collaboration," Mondal said, "and actually unite practitioners in the area to talk about their experiences in the field and how we can better share information to improve patient care."
The summit featured a virtual keynote presentation from Nilima Tanna, OTR/L, CLVT, COMS entitled "Who are the People in Your Neighborhood?" Tanna discussed the benefits and challenges of helping people with vision impairment navigate what are often scattered multi-disciplinary services. The presentation shed light on how a lack of collaboration among service providers can lead to gaps in patient care. For example, Tanna explained, a provider who puts together a plan in the clinic may never see how it works – or doesn't –  in the patient's home or why the patient discards it.
Mondal said feedback from the event has been positive and there are plans to make it an annual occurrence.