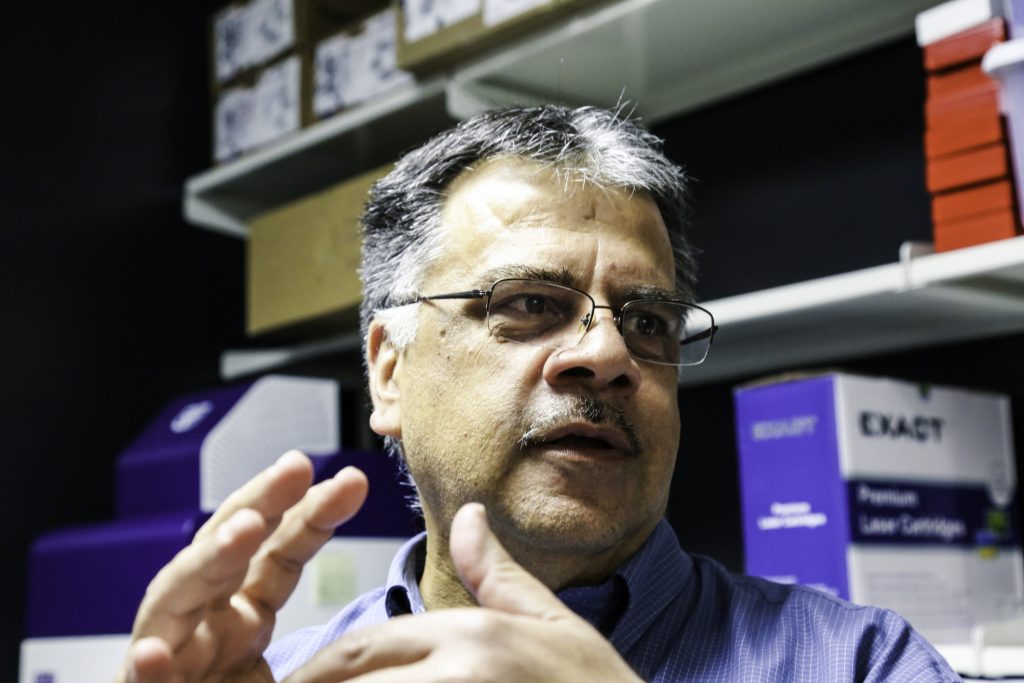 Nader Sheibani Receives Stein Innovation Award
Featured News // News // Research News // University of Wisconsin - Madison // Jul 25 2017
ABOUT THE Award
Nader Sheibani, PhD, of the University of Wisconsin-Madison School of Medicine & Public Health, has been granted a Research to Prevent Blindness (RPB) Stein Innovation Award. Up to $300,000 will be provided over three years. This award provides flexible funding to scientists actively engaged in research with the goal of understanding the visual system and the diseases that compromise its function. New technologies and cutting edge research that apply to blindness are supported through this award. Dr. Sheibani is one of eighteen researchers at thirteen institutions who have received the award since it was established in 2014. Out of eight RPB Stein Innovation Awards given in total to date by RPB, UW-Madison researchers have received three!
Targeting Metabolic Stress in Retinal Pericytes for Treatment of Diabetic Retinopathy
Diabetic retinopathy is a major complication of diabetes that causes vision loss in the working age population. Many studies have implicated increased glucose levels as the primary insult leading to loss of retinal vascular integrity. Tight regulation of glucose levels has been proposed as a beneficial strategy to diminish complications of diabetes. Unfortunately, in many cases tight regulation of glucose is difficult to achieve. Dr. Sheibani proposes that the identity of retinal vascular cell specific molecular mechanisms impacted by high glucose, are vital to determining the underlying mechanisms of diabetes such that more effective therapeutic regimens can be designed. Dr. Sheibani believes that pericyte loss is an early event during diabetic retinopathy perhaps due to their selective sensitivity to high glucose. Dr. Sheibani's recent efforts are focused on determining the reason for the selective sensitivity of pericytes, but not endothelial cells or astrocytes, to high glucose. The studies proposed by Dr. Sheibani will investigate how high glucose conditions in retinal pericytes enhance glucose utilization, oxidative stress, and loss of pericytes. Identification of specific metabolic pathways engaged by retinal vascular cells for glucose utilization, and determining whether there are suitable target for preservation of retinal vascular cells, will be major steps forward in treatment and prevention of diabetic retinopathy.
ABOUT RPB
Since it was founded in 1960, RPB has channeled more than $349 million into eye research. As a result, RPB has been identified with nearly every major breakthrough in vision research in that time. For information on RPB's grants program, listings of RPB institutional and individual grantees, and findings generated by these awards, go to www.rpbusa.org.